13 AVN AWARD NOMINATIONS FOR
SUNNY LEONE, SUNLUST PICTURES & GIA
2010 has been a stellar year for adult entertainment superstar Sunny Leone and her production company, SunLust Pictures. Sunny, who continues to be one of the leading stars in the adult film world, has seen SunLust's meteoric rise as well as crossing over to mainstream in a big way with her appearance in "The Virginity Hit."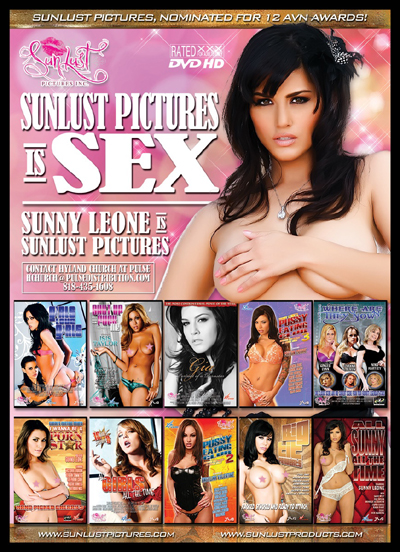 Capping off this amazing year, Sunny and SunLust were honored with a thirteen AVN Award nominations including five for SunLust's monster hit "Gia: Portrait of a Porn Star."
"I am so excited by the nominations," said Sunny. "Everyone at SunLust worked so hard on Gia. It was such an ambitious project and I am so proud of the results."
Gia's nominations include one for "Best Screenplay Adapted" for writer/director Spencer Benedict, "Best Original Song" for the Sin City Sinners' "Numb" and a nomination in the "Best Parody: Drama" category.
Sunny was nominated for a pair of awards for Gia. Her scene with Tori Black was nominated as "Best All Girl Couple Scene" and Sunny has honored with a "Best Actress" nomination for her lead role in the film.
"I had such a good time with Tori," adds Sunny. "She is so beautiful and we had great chemistry on set. I am honored by the nomination for 'Best Actress,' but being naked with Tori was a lot more fun than learning dialogue."
Sunny's girl/girl scenes are legendary and she was recognized for several of them. Her threesome with Karlie Montana and Devi Emmerson was nominated in the "Best All Girl Three Way" category. She also garnered a pair of nominations in the "Best All Girl Group Scene" category. Sunny's G/G heat carried over to SunLust's all-girl line "Pussy Eating Club" which was nominated for "Best All Sex Series."
Fans and critics alike loved "Sunny's B/G Adventure," which scored three nominations. The movie was nominated as "Best Vignette Release" and for "Best Music Soundtrack." Sunny's three-way with Daisy Marie and Voodoo was recognized in the "Best Three Way G/G/B" category.
In addition to the bevvy of award nominations for SunLust and her sex scenes, Sunny was honored with a pair of individual award nominations. Her web site SunnyLeone.com was nominated as "Best Porn Star Web Site." In part due to her high profile appearance in "The Virginity Hit" as well as "Black Shama" which was recently completed in the Philippines, Sunny was also recognized in the "Crossover Star of the Year" category.  Sunny Leone was also nominated for her work in Hocus Pocus XXX, Best All-Girl group sex scene.
Sunny Leone and SunLust Pictures are proud to end 2010 on such a high note.