Superstar Adult Entertainer Nikki Benz is taking her world-famous stage show down to Atlanta where she will be heating up the stage at the Pink Pony January 27th-29th. It is her first feature engagement since being named 2011 Penthouse Pet of the Year and Nikki is thrilled to be heading South to celebrate.  "I love Atlanta!" Nikki affirms, "the last time I was feature dancing there I had an amazing time. I look forward to meeting my ATL fans at the Pink Pony. Atlanta I hope you're ready for me, let's do this!"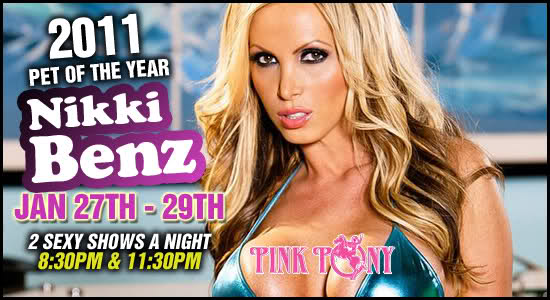 Nikki will storm the stage twice nightly at 8:30pm and 11:30pm with plans to wow fans with her trademark energy and world famous stage presence. After each show Nikki will be available for meet-n-greet time with her fans. She will have DVD's, posters, 8x10s and photographs available promptly after each show.  Nikki has recently signed an exclusive dance gig deal with A-List Features for all U.S. Bookings. Her appearance at the Pink Pony is the first booking under this new agreement as well as her first engagement as reigning 2011 Penthouse Pet of the Year.
A-List is thrilled to have Nikki on board. "I've known Nikki for years," says Dave Michaels owner of A-List Features. "It has been a great thrill for me to see her rise though the ranks due to her hard work and dedication, not to mention the fact that she's smokin' hot! Being crowned POTY is an awesome milestone for her illustrious career! A-List Features is proud to have Nikki as an exclusive feature performer during her reign as Pet of the Year. It is the perfect home for her. She will be branching out into many new markets and clubs, as well as revisiting her favorites from the past several years."
Nikki is equally enthusiastic about the new partnership with A-List Features. "Dave is an amazing agent and I am thrilled to have him book me exclusively throughout my reign as 2011 Penthouse Pet of The Year!"
Come see 2011's Penthouse Pet of the Year Nikki Benz on January 27th-29th at the Pink Pony in Atlanta.
Pink Pony Atlanta
1837 Corporate Blvd
Atlanta, GA 30329
Phone: (404) 634-6396
http://www.showbars.com/about/pinkpony/
For more of Nikki check out her personal website at www.nikkibenz.com and her popular social hangout www.twitter.com/nikkibenz