Smokin' Crack 2: Cock Is A Girl's Best Friend
Rock & Porn Rebel Turns Debilitating Hobby Into Series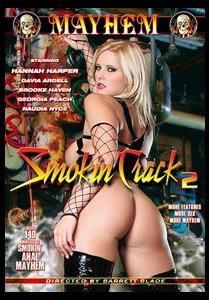 (Chatsworth, Ca)- Despite letters of warning stemming from the first release from such notable organizations as the Free Speech Coalition, PAW, AIM, Dirty Bob, and The Crackwhore United National Triumvirate Porn Star Anti-Defamation Squad of America, (American CUNT PAD for short) Mayhem contract director Barrett Blade has gone ahead and released the second installment of his controversially titled anal series; Smokin' Crack. Given the affinity rocker turned porn stud turned smut peddling whoremaster Blade once had for sniffing on white lines, the aptly named series is a fitting tribute. These days he's cooking up sweet, cum sticky ass crack, instead of railing the yayo, and stacking up money in the bank. The results of this crazed sexual pharmacology are nothing short of incendiary.
"We've got the sweetest, youngest anal whores in the business getting their juicy ass cracks plowed by so much meat it's ridiculous," offers the spiky coifed, tattoo smeared director. "These dirty fuck dolls take delightful rectum reaming deep into their blossoming bungholes until the sweet nectar explodes out of their ripe, chubby cunt lips and their assholes look like they had been hit by a scud fucking missile. We had a medic on the set for most of the shoot, seriously."
Among the stunning young starlets to take to the anal chaffing and radically unhygienic ass-2-mouth acronym action were Penthouse Pet & Sin City contract star Hannah Harper and 'sweet-as-felched-whip-cream-&-lollipops' Georgia Peach. Also featured was the incomparable cocksucker Naudia Nyce, the buxom anal princess Brooke Haven, and 'I-can-pick-up-a-quarter-with-my- sphincter' Davia Ardell. A wide assortment of meat puppets were required to facilitate the filming process and a full list of these swarthy swordsmen can be found on the original packaging, which features a truly mesmerizing hardcore posterette for maximum viewing pleasure. Indeed, consumers will be blown away to discover the wealth of extra features included in the DVD as well as the minutiae of interesting bonus materials, making this movie feel like a million dollars worth of value.
"I don't know if you've ever seen that pirate movie everyone was talking about," mumbles Sin City spin doctor Devan Cypher, "but it's nothing at all like that. This movie is full of all those hot, cracked-out stripper bitches you piss your money away to at the club, getting their shitters straight jacked up and fucked open until they can't sit down or shit right for two weeks. A couple of the girls do curse like dirty pirate hookers though. Tell Newsweek they can print that."
Smokin' Crack 2 hits stores 2/08/06.
For more information on Mayhem & Sin City Films, visit the main website http://www.sincityfilms.com where you can find news, press releases, photos, and video on demand, or contact devan@sincityfilms.com.
Distributors may contact Sin City toll free at (800) 315-9888 or through National Sales Manager Danny Gorman via email, danny@sincityfilms.com.
About SIN CITY ENTERTAINMENT:
Sin City Entertainment is a leading manufacturer in the adult entertainment industry. Established in 1987, Sin City quickly received accolades for their high-end full-length features.
In the evolutionary, ever-changing nature of the adult business, Sin City has also been able to adapt and capture a large portion of the market-share as it relates to other genres of adult moviemaking (Compilations, Gonzo, etc.) The company remains at the forefront of industry advances and developments and the technology utilized in the production and post-production of their DVD products has far surpassed that of their competitors.
Sin City is also recognized as an innovator within the, highly competitive and ever-growing, Internet establishment. Having understood that the Internet has forever changed the face of "Adult", Sin City Entertainment has committed to providing the consumer with the most sophisticated, finest adult fare to be accessed via the World Wide Web.
Not to be underplayed is Sin City's penetration and impact of the World Wide Cable and Satellite market. Through a powerful network of cable and satellite purveyors, Sin City Entertainment has gone – literally – GLOBAL. At any given time, virtually anywhere in the world – a Sin City production may be viewed.
As for the future, Sin City remains steadfast in its self-imposed vow to remain "the standard" for which excellence within the adult industry is measured. The company is scheduled to increase production, expand its state-of-the art post-production facilities and allocate resources in the development of new groundbreaking Internet and High Definition technology.
For more information on Sin City Entertainment, please contact devan@sincityfilms.com