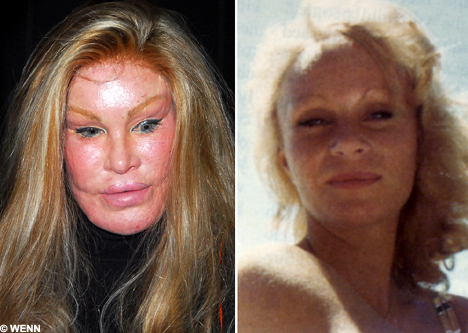 Fayner Posts: Listen, I love Jenna, but her need to remain young looking is becoming an obsession if you ask me. It's not her fault, nearly every American woman tries every day to stay young. Blame it on television, blame it on the girlie magazines, blame it on other women. But it ain't a healthy lifestyle I bet. Even my mother who is in her 60s now and obviously no longer considered a looker is trying to remain young looking.
And this is what the end result is? This hideous woman in the picture. It could have easily have been former porno slut Houston in this story.
And if Jenna doesn't smarten up, she'll end up just like this chick.
Even the doctors on Nip/Tuck couldn't save her then.
READ ON
If proof were needed that money can't buy everything, look no further.
Rich divorcee Jocelyn Wildenstein spent a rumoured £2million on cosmetic surgery to keep her husband, but succeeded only in ruining the good looks she was born with.
Clearly her strange looks have not completely scared off all male attention, as the scary-looking 62-year-old was out with a male companion enjoying an intimate dinner on last night.
The American socialite has been nicknamed the Bride of Wildenstein and dubbed the world's scariest celebrity by a plastic surgery website.
Ms Wildenstein famously embarked on a radical amount of cosmetic procedures after fearing her millionaire art dealer husband would leave her.
Bizarrely she based her remodelled look on exotic wild cats, which he loved, as she decided that he might find her more attractive if she became "more feline".
The first time Wildenstein saw his newly-sculpted wife, he was said to have screamed in horror, unable to recognise her.
According to the Daily Telegraph, he said: "She seems to think that you fix a face the same way you fix a house."
After finding her husband in the marital bed with a 19-year-old Russian model, she divorced him and was awarded millions of dollars.
Ex-husband Alec Wildenstein, died on Monday aged 67.