Roseanne: Sex Tape on Market?!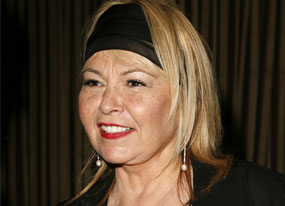 Well, it made you look, didn't it? Luckily for all civilized nations, it's actually a joke the comedien made on her official Website in response to an impostor posting on her MySpace page.
"One of the interns who was administering my MySpace page (NOT TOM) has been fired. I apologize for the offensive blogging that went on there last night. I write only at RoseanneWorld.com I apologize to all on MySpace who received the offensive bulletins. The matter has been handled."

She followed up with this:
"The fired intern from MySpace (not TOM) has also stolen my private sex tape. I am offering $25,000 for its return (unless someone would like to distribute it—then I am willing to deal). The rumor mill says that Perez Hilton knows who took it."
Scary thought!
But while we're not interested in seeing Roseanne's stretch marks in action, we would like to get a peek at the so-called incoherent ramblings allegedly posted of her boss by the disgruntled intern. (Was getting coffee for the old broad so bad?) Fortunately, Perez saved them all for our consumption. We owe you one, dude.
So, here's a sample of a drunken Roseanne as apparently channeled by her former intern:
"i am in hawaii on the beach drunk and trying to hide out from people who want me to do a new sitcom which i probably WILL DO cuz i miss working. I still f–king hate tom arnolds f–king guts and everyone in show biz is a c–ksucker too. i should not drink so much as my grown children say, but what the hell..I LIKE RED WINE!!!!"
Remember folks, this is the intern speaking. You think Tom Arnold is buying it?