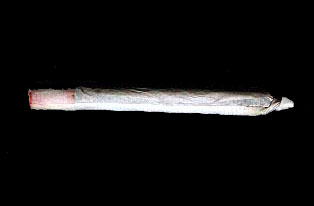 Fayner Posts: Sure, building a joint that is three and a half feet long is impressive, but leave it to the French to surrender at the first sign of trouble.
And the fact that not only did they fail to build it because of a lack of tobacco but that they were using tobacco in the first place makes France our "Loser Country of the Week!"
Stolen from Here: Police in France said they had thwarted an attempt by a group of marijuana smokers to roll the world's longest joint by seizing a work-in-progress measuring 80 centimetres (32 inches) in length.
"At some point, these young people had wanted to craft a joint of 1.12 metres to beat the world record in the discipline and get it officially registered," said a police officer in eastern France.
"We don't know who had the idea. Sometimes ideas are created in an astonishing way," he said.
During an investigation targeting a group of four smokers in the eastern Vosges area of France, police discovered the giant joint containing 70 grams of marijuana resin. It had not been finished because of a lack of tobacco.
One of the smokers of adult age is to appear before a court charged with drug use on October 19. Two minors will appear before a juveniles court on October 6.