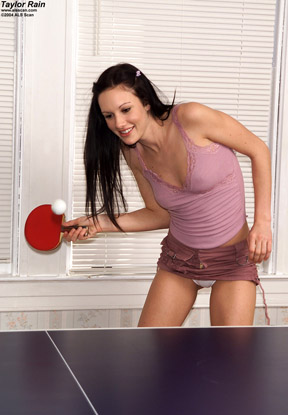 this is the picture they used in the article
Porn by Women, for Men!
FROM http://www.villagevoice.com Who among us does not know of FUBU? For Us, By Us. Clothing made by people like LL Cool J (Malaysian people like LL Cool J, except much poorer), for people like LL Cool J (me). The phrase alone–foo-boo–fills this writer with pride, a sense of belonging that can only come from the promise of oversized goods mass-produced in the '90s draped rakishly over one's gym-sculpted ladies-man body. And then there is what I like to call FUBSE (rhymes with this guy): For Us, By Someone Else. The ladies-man connection I feel to that destitute Malaysian man or woman goes without saying (and with saying, for that matter). But what of Taylor Rain, starlet and female director of Spunk in the Trunk (Defiance), a conventional, non-couples anal cream-pie movie? Yo: Is Rain a man's-man poseur (man's-man-woman-and-you-know-this-man), or a womanizer trapped in a man's-woman body? I call for a vaginal probe, to be administered by me, in order to determine the truth. Also: Someone lick my balls.
There's one truly memorable moment in this video (which is not to call it ineffective. More on that later unless I don't feel like it). Julie Knight is being thoroughly explored by two men, one of whom is our friend and husband of Audrey Hollander, Otto Bauer. She's sucking Otto off, and he does this thing I've never been a big fan of where he balls her hair up in one hand and then smacks that fist with the other hand, driving her down on his dick. This looks unpleasant, despite the fist apparently acting as a sort of shock absorber. But the memorable thing is that when he pulls her head away, looks at her and asks,D'ya like that? Huh? she simply says,"Not really." Naturally he says something along the lines of, Well, I'll keep doing it then! Is Julie, one of the least shy–let's just say most wild–starlets, cleverly lending this WWE-style stunt some verisimilitude via . . . acting? Or is she just being honest, despite herself? The difference between gonzo and the rest of porn is that in gonzo we're meant to identify with the male actor as an actor, whereas in other porno we're meant to identify with the actor as a character. So in gonzo we're watching it go down as it goes down, warts and creepy guys and reticent women and all. But we're still watching semi-professionals who are being paid to fuck one another in certain loosely prescribed ways. Julie saying 'not really' is either a break in the patchy semi-professional facade or a seamless manipulation.
Either way it seems not to reflect at all on Taylor Rain as a director–then again, it springs from Julie and Otto's chemistry, and the admittedly obvious but decidedly smart decision to pair them. Rain administers the other women here–Deja Daire, Keeani Lei, Naudia Nice, Sascha, and the wonderfully-breasted Missy Monroe–as well as any director. Indistinguishably so. What should we expect from lady gonzo directors? The same business and entertainment acumen you'd credit to any guy. Let's get them directing first and expect change second.
Posted by Johnny Maldoro at 03:27 PM, April 02, 2006