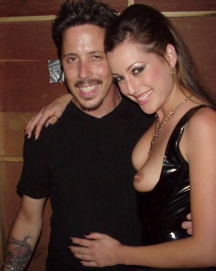 Mike could of banged Holly Hollywood, but he didn't. That's why he drinks so much
1) Always the dedicated alcoholic, Mike has found solace over the years drowning his misery in many flavors of booze, from wine to vodka to midori shots, finally settling these days in the arms of single malt scotch, the drink of successful alcoholics everywhere. Mike is, however, aware of the fact that although he consumes a great deal of this expensive and dignified liquid, he is and will always remain a failure.
2) Mike recently discovered that his neighbor across the street for the last couple of years is a registered sex offender.
His offenses are
LEWD OR LASCIVIOUS ACTS WITH CHILD UNDER 14 YEARS
CONTINUOUS SEXUAL ABUSE OF CHILD
Whoever sold him a house mere feet away from a pornographer, his wife, child and fierce drinking problem should be shot.
3) Mike tells me that he recently shot a scene with a chick he thinks is Jasmyne Byrne, who showed up on set wearing some vintage expensive trendy AC DC concert shirt she probably got on Melrose, and when Quaz commented about her liking the band, it became apparent that the silly little tart had no idea that AC DC is a rock band by pretty much saying that she had no idea AC DC is a rock band. No one should wear an AC DC shirt if they don't know who the band is. That's just sacrilegious if you ask me.