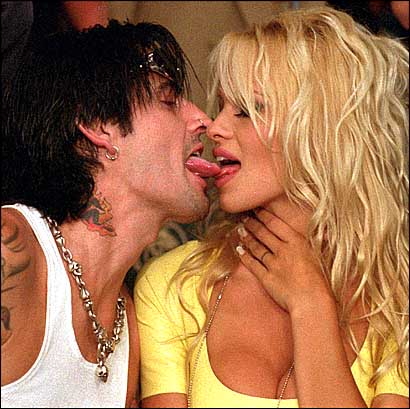 B-list Hollywood celebrities from "it" girl Paris Hilton to actor Tom Sizemore are finding that, far from being a kiss of death, the release of their home-made sex videos can be a big career boost.
While "Baywatch" star Pamela Anderson and her rocker husband Tommy Lee fought tooth and nail to keep their sex romps private, they inadvertently launched a new trend that some lesser stars are now happy to feed as celebrity nookie becomes a growing niche in the X-rated movie industry. Blond bombshell Anderson and Motley Crue drummer Lee, who have since divorced, became cult porn stars when a cassette of their raunchy pursuits was stolen from a safe in 1997.
The couple waged a legal battle to block the release of the tape, but ultimately reached a settlement and the video went on to sell more than 100,000 copies. "Pam and Tommy at the time was by far the biggest celebrity tape that has ever been to the marketplace," said Steven Hirsch, co-founder and joint chief executive of top US pornography studio Vivid Entertainment. Gone are the days when actors feared that photographs in flagrante delicto could ruin their careers, as did screen heartthrob Rob Lowe when he was filmed cavorting with an underage girl in 1988.
Until her taped bedroom escapade with boyfriend Rick Saloman hit the Internet in 2003, platinum-haired hotel heiress Paris Hilton, 24, was known for little else than looking radiant on the red carpet and turning up at all the best parties. While she was mortified that her hard-core exploits, filmed with a green-hued night-vision lens, became among the most watched videos online, her stock in Hollywood rose dramatically as a result of the overexposure. As the film, suggestively-titled "One Night in Paris," was released on DVD selling tens of thousands of copies, Tinseltown came knocking on Hilton's door.
Since then, she has had no fewer than five movie acting roles, several other screen appearances as herself and her reality television show "The Simple Life" became a surprise smash hit. "I hate what happened with that sex tape, but it only made her hotter," commented business mogul Donald Trump in this month's issue of Vanity Fair.
After Hilton recovered from the embarrassment of having her sexploits viewed to the world, even she now waxes philosophical about the indignity. And actor Sizemore, who had roles in Steven Spielberg's "Saving Private Ryan" and Ridley Scott's "Black Hawk Down," has also decided that baring all is the way to go when one's career is sagging. As his career slowed and he narrowly escaped jail-time following convictions for drug offences and beating up his girlfriend, a reportedly near-broke Sizemore gave his blessing to the sale of a recording of his bedroom antics.
In stark contrast with screen A-lister Colin Farrell, who is fighting a legal battle to keep private a film of him in bed with a former girlfriend, Sizemore has endorsed the release of his exploits by Vivid.
One star of the US reality TV show "Survivor" even secretly set up a company to sell her sex video, before going on to complain publicly about the humiliation of such an invasion of privacy, according to reports. The strange new cohabitation between mainstream cinema and porn is symptomatic of a blurring of the lines between pornography and pop culture, said University of Southern California sociology professor Julie Albright. afp