R. KELLY'S TRYST WITH A TEEN GIRL IS CHILD'S PLAY COMPARED TO JERRY LEE LEWIS' MARRIAGE TO HIS 13 YEAR OLD COUSIN…IF ONLY HIS CAREER GOT DESTROYED LIKE LEWIS' FOLLOWING THE NEWS SO WE'D BE SPARED HIS ULTRA-CRAPPY MUSIC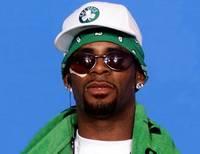 R. KELLY "Signature" sunglasses, the ultimate in keeping urine out of the eyes of teenage girls
CHICAGO (AP) — Singer R. Kelly is a step closer to trial after a judge refused Friday to dismiss charges in a three-year old case against him for allegedly engaging in videotaped sex acts with an underage girl.
Kelly has pleaded not guilty to 14 counts of child pornography.
Cook County Judge Vincent Gaughan rejected defense arguments that prosecutors have been too vague about when the alleged crime took place, said county state's attorney spokeswoman Marcy Jensen.
Prosecutors claim the video was made sometime during a nearly three-year span between January 1998 and October 2000. They cut 18 months off their original timeframe of November 1997 to February 2002 after a judge agreed in June that the span was too broad.
Defense attorney Ed Genson did not return a call for comment after business hours Friday.
Kelly, whose first name is Robert, won a Grammy for the gospel-like song I Believe I Can Fly. He's also known for sexually charged music like Bump N' Grind and Ignition.
The next court date was set for Dec. 9.