Vote for Reagan for NightMoves 2023 Best MILF Performer!  
HOLLYWOOD, CA – Breathtaking beauty Reagan Foxx has a slew of impressive new releases available now. First up, the 2023 XBIZ MILF Performer of the Year toplines Elegant Angel's award-nominee spotlight series, MILF Performers of the Year 2023.
AVN Award nominees Reagan Foxx and Rachael Cavalli start things off with a lesbian scene available that was released earlier in the week called "The Motherlode".
Directed by industry legend Pat Myne, the thirty-seven-minute scene features the ladies making passionate lesbian MILF love, pleasuring each other with kisses, cunnilingus, fingering, scissoring, a sex toy, and more!
"Rachael is amazing," Foxx said of her scene partner. "Thanks for a wonderful scene, and thanks to Pat Myne who is incredible, and to Elegant Angel for making me a part of this. It's an honor to be featured with all these amazing performers and I love how it all came out."
See "The Motherlode" now at https://www.elegantangel.com/1625243/elegant-angel-the-motherlode-streaming-scene-video.html.
Featuring in-depth interviews with the cast, each scene highlights the dynamic range of the award-nominated MILF performers. Watch the entire new release now at https://www.elegantangel.com/4653528/milf-performers-of-the-year-2023-streaming-porn-videos.html.
Elegant Angel is releasing a month of award-nominee spotlight productions, starting with MILF Performers of the Year 2023. They also released a new interview with Foxx on their company blog on Friday, September 9. When asked about her fans, Reagan didn't mince words.
"I am amazed and I'm so appreciative of their loyalty. And thanks for watching. I mean, I couldn't do this without any of them. I'm honored and blessed and I love what I do, so thank you for noticing and watching."
Read her interview now at https://blog.elegantangel.com/2023/09/08/reagan-foxx-the-milf-performer-of-the-year-interview/.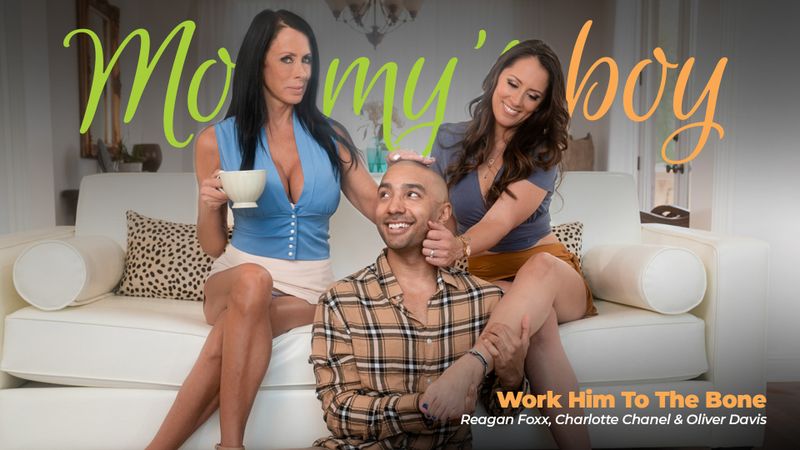 But that's not the only hot new Reagan release this week! Yesterday the tantalizing temptress had a new scene called "Work Him To The Bone" drop from Mommy's Boy and Adult Time. Directed by Siouxsie Q and Michael Vegas, the incendiary new drop showcases the magnificent MILFs stunning sexual talents.
Foxx's gal pal Charlotte Chanel has a new stepson played by Oliver Davis. Reagan puts him to work on house chores and foot massages, then the gorgeous pair rewards him with an energetic threesome the lucky young stud will remember for the rest of his life!
"I love sharing a hard cock with another sexy lady and this was no exception," Reagan shared.
See the hot new release for yourself now at https://www.mommysboy.com/en/video/mommysboy/Work-Him-To-The-Bone/230445.
The All-American MILF also stars in a new Pure Mature release. "Doc's Cock". Reagan plays a nurse who is having an affair with her boss. She masturbates in an exam room then her love doctor sneaks in for a wild make-out session that goes all the way.
"I love taboo and fetish scenes," Reagan said. "Playing doctor, playing a naughty nurse, fucking the boss, getting caught masturbating at work then fucking at work, and trying not to get caught the whole time was the perfect blend of both!"
See it now at https://puremature.com/video/doc-s-cock.
And get your art for it here https://twitter.com/TheReaganFoxx/status/1698798832535163087
And she stars in a new Pure Taboo DVD and VOD release, Enjoy Your Stay. Catch the trailer and pick up your copy now at https://www.adultdvdempire.com/3024182/enjoy-your-stay-porn-movies.html?partner_ID=46386249.
And ICYMI the ultimate MILF made her MILFY debut this summer! Reagan pairs up with Dan Damage in "Take Care of You" directed by Kayden Kross. The scorching taboo new release features Reagan as a caring friend of Dan's mom who tries to sheild him from getting caught for underage drinking and ends up taking care of the young stud's irrepressible sexual urges instead.
"It was such an honor to shoot for MILFY and Kayden," said Reagan. "Dan and I had an amazing scene! If you haven't seen it yet, don't wait one second longer!"
Witness experienced Reagan slay her lover now at https://www.milfy.com/videos/nurturing-mom-is-insatiable-for-young-cock.
Have you heard? Reagan is nominated for BEST MILF PERFORMER at this year's Night Moves Awards. With a showcase series on the All-American MILF from MissaX and Craven Moorehead and scenes like "Take Care of You" from MILFY it's no surprise!
Voting runs from July 15, 2023, to September 15, 2023. To be a legal ballot, you must vote in six categories. One vote per IP address is allowed.
Vote for Reagan now at https://letsvote.nightmovesonline.com/index.php/299323.
Fans can now experience what it's like to be with Reagan herself with the FeelReagan stroker sleeve. For more information on the FeelReagan, visit https://www.kiiroo.com/products/reagan-foxx. For more products, click here or visit www.kiiroo.com.
Follow Reagan on X at @thereaganfoxx and on OnlyFans at https://onlyfans.com/thereaganfoxx. Reagan can be booked through East Coast Talent. View her page at https://eastcoasttalents.com/site/talent/reagan-foxx/.
PR for Reagan is provided exclusively by Rising Star PR. Visit our website, http://risingstarpr.com, and follow us on X, @RisingStarPR. For interviews or media inquiries, contact RisingStarPR@gmail.com. For more information about Reagan, visit http://risingstarpr.com/all-stars/reagan-foxx/.