Former Vivid Girls, Lacey and Lyndsey Love, the identical twin phenoms better known as The Love Twins, today announced they have relaunched their official website and are now offering fans a whole new look at their lives as porn stars at www.LoveTwinsXXX.com.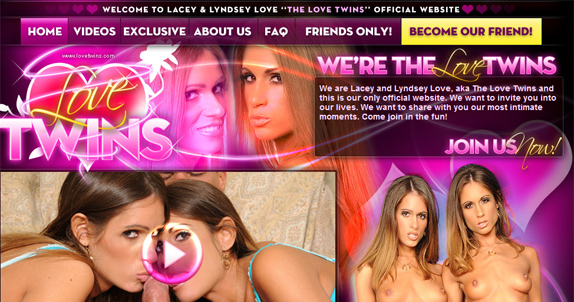 Lyndsey Love said "Our fans kept asking when we were going to launch a membership site and start showing our movies.  At first we shied away from the idea because it was a lot of work and we didn't even begin to how to get started and we knew if we ever did do something like this we had to be very involved in every single step.  They are our fans and they want to work with us not some weird guy we hired to do it all for us and pretend to be us.  And thanks to the help of our friends Kelli Roberts and Loryn Taylor, they made it so easy.  They helped us set things up in a way where we get to do all of our own updates, make all of our own posts, reply to fan messages, everything."
Besides the graphical overhaul, their new website includes the obligatory photos and movies that their fans can watch but also some unique features such as custom iPhone text reminders, and a feature they call Lacey vs Lyndsey where members can write in and ask for advice and both the girls give their answer in a unique twist on the he said/she said format.
The new website includes scenes from some of their more popular movies like My Evil Twin, Alphabet, Sisters Unchained and Joined at the Hip but also includes exclusive scenes the twins are shooting themselves at home.  Another interesting feature members of their new website might enjoy is a section of their website dedicated to other twin porn stars including Misha and Sasha, who were formerly known as the Sin Twins or the Anarchy Twins and there are even a few scenes from the very popular Milton Twins.
Loryn Taylor and Kelli Roberts said they will stay on and work with Lacey and Lyndsey Love including launching an affiliate program for the twins in the near future and they are even working with them on releasing a Love Twins branded novelty line.
ABOUT THE LOVE TWINS
The Love Twins first came on to the scene when they were signed by Vivid in 2005 and shortly after released their first movie Two Hot which would go on to be nominated that year for best sex comedy.  Their follow up movie True Hollywood Twins would go on to receive the same nomination the very next year.  When The Love Twins contract with Vivid Expired in 2007 they would go on to work with several other companies making movies for everyone including Digital Playground, Jules Jordan, Adam and Eve, Smash Pictures and more.  The Love Twins would also grace the covers of several men's magazines including Swank, Club and Genesis and eventually they would launch their own official website, www.LoveTwinsXXX.com which they run themselves.  You can also follow them on Twitter at www.Twitter.com/TheLoveTwins

ABOUT LORYN TAYLOR
Loryn Taylor has been in the business for 8 years including a 5 year tenure at the Playboy owned adult.com as a marketing manager. Eventually she ventured off onto her own, working as an independent consultant for a variety of affiliate programs setting up commission deals and cross sells deals and the money was there, enough for her to stop looking for a company to work at and start her own.   You can follow Loryn on Twitter by going to www.twitter.com/LorynTaylor.
ABOUT KELLI ROBERTS
Kelli Roberts has 15 years of industry experience, running a collection of over 50 adult websites as well as working as an independent marketing consultant with several large companies. In 2010, she wrote and produced her first movie, Hocus Pocus XXX.   She also runs the popular porn star ranking website www.FameRegistry.com. You can follow Kelli on Twitter by going to www.twitter.com/KlubKelli.