Inmate No. 9818783 has left the building.
The Los Angeles County Sheriff's Department held a news conference outside the Century Regional Detention Facility announcing Paris Hilton's release from prison.
According to the sheriff's spokesman Steve Whitmore, Hilton was "reassigned" because of medical reasons.
Whitmore said, "With the help of medical personnel and doctors, it was determined that she be reassigned to a community based electronic monitoring program."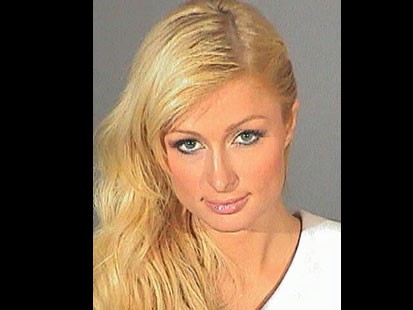 In other words, Hilton is now under house arrest. She will be confined to her home and required to wear an ankle bracelet for 40 days. The ankle bracelet has a range of 3,000 to 4,000 square feet.
If she leaves her home, Whitmore said she would most likely be remanded to court and her jail time would be bumped up to 90 days.
The Ankle Bracelet Club
Hilton's not the only celebrity who has been assigned an ankle bracelet. Last month, a Los Angeles judge ordered the former "SNL" star Tracy Morgan to wear one of the bracelets for 90 days for violating probation for a drunken driving arrest. Morgan wore the bracelet while he hosted Spike TV's "Guys Choice" Awards.
"Lost" star Michelle Rodriguez turned the ankle bracelet into a fashion statement when she wore it to New York's fashion week in February of this year. Rodriguez was sentenced to 60 days in jail for violating probation after a drunk driving arrest in Hawaii and she was released from the Century Regional Detention Center — where Hilton was — almost immediately because of overcrowding.
And then there's Martha Stewart. Stewart was convicted in March 2004 on four counts of lying to investigators and obstruction of justice after selling her shares in the pharmaceutical company ImClone, days before its application for a new drug was denied. She served five months before she was placed under supervised release and required to wear an ankle bracelet for an additional five months.
Was She Cut a Break?
When one reporter asked if Hilton was cut a break, Whitmore responded, "It's a fair statement, and I don't know if there's any way to address that…[we're] fully aware of this criticism and this action was taken."
He also said if another person, or a non-celebrity, had the same medical problem as Hilton, he or she would also have been allowed to serve time at home.
Whitmore added, "She has paid her debt to society."
The hotel heiress made her exit early this morning.
Hilton served a total of three days in jail, a far cry from what was originally a 45-day sentence that was later reduced to 23 days. She was sentenced to jail time in May for violating her probation in an alcohol-related reckless driving case.
Hilton checked into the facility Sunday night after making a surprise appearance at the MTV Movie Awards.
According to Hilton's lawyer, Richard Hutton, his client was held in a special unit where she spent 23 hours a day in a solitary cell. Hutton also said his client was doing well under the circumstances after her first night behind bars.
"The Simple Life" star pleaded no contest to a reckless driving charge in January and was sentenced to 36 months of probation. When she was later pulled over by the California Highway Patrol, Hilton was told she was driving on a suspended license and signed a document acknowledging she was not to drive. She was then pulled over by sheriff's deputies Feb. 27 and charged with violating her probation.