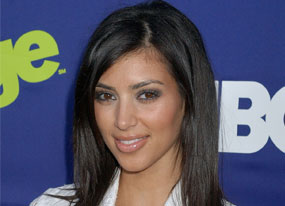 Kim Kardashian can keep the title of Unwilling Porn Star off her résumé for now.
Adult film purveyor Vivid Entertainment is planning to hold off on releasing Kim Kardashian Superstar, a sex tape the fashion designer and socialite made several years ago with then-boyfriend Ray J, until executives have a sit-down with the title character.
Vivid cochairman Steven Hirsch said that this latest move is not a reflection of the invasion-of-privacy lawsuit Kardashian filed last week to block the DVD's release, which had been scheduled for Wednesday.
"We remain very confident that we have the legal right to distribute this video," Hirsch said, "but we feel it is most important that we have an opportunity to meet with Ms. Kardashian as soon as possible."
Better over coffee than in front of a judge, one would think.
In court documents filed Thursday in Los Angeles Superior Court, Kardashian asks for unspecified damages from Vivid, which according to Forbes generates upward of $100 million a year in revenue, as well as a permanent injunction barring the company from marketing or profiting from her likeness "in any manner for any purpose."
"We're just going to get to the bottom of this and do whatever we have to do to stop it," Kardashian, 26, told E! News earlier this month, adding that she didn't think Moesha actor Ray J was responsible for releasing their video to the public or that he had pocketed the $1 million Vivid reportedly paid an undisclosed third party for the tape.
Not so privacy-minded was Rick Salomon, onetime boyfriend of Kardashian's best pal, Paris Hilton, who took it upon himself to find a distributor for their own on-camera romp, which later became One Night in Paris.
Shannen Doherty's ex-hubby also sued his costar for slander in 2003 after their sex tape made the rounds and the heiress' family suggested that Salomon had taken advantage of a then-19-year-old Hilton. He eventually dropped the suit.
Hilton filed her own $30 million invasion-of-privacy lawsuit against Panama-based Internet company Kahatani Ltd., which she later dropped after she arranged for a cash sum and a portion of any sales.
While the 45-minute cinematic experiment enjoyed a fruitful shelf life, courtesy of Red Light District Video, Hilton has maintained that she didn't keep a dime of that "dirty money" and donated her reported $400,000 cut of the profits to charity.
Kardashian is the daughter of late O.J. Simpson defense attorney Robert Kardashian. Her stepfather is Olympic gold medalist Bruce Jenner and her stepbrother is The Hills personality and serial starlet-dater Brody Jenner.
There has been no word yet from Kardashian's camp as to whether she's willing to meet with reps from Vivid.