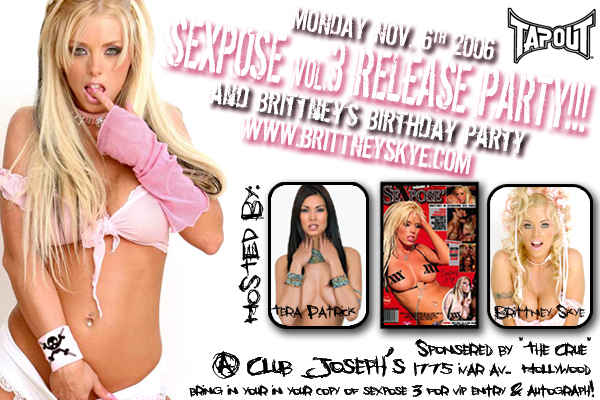 Brittney Sky Blogs: My New Movie and PARTY Info…. Your Invited
Happy Halloween Fuckers!!!!!!! My lucky fucking ass saw Saw3 today…..that's fucking spooky huh? It was so sick and perfect!!! I wouldn't change a fucking thing!! Pure perfection!!!
Ok so my party….oh and thank you 4 all my happy birthday wishes, and its not even my bday yet! I'm a lucky bitch!!! Ok fuckers!!!! So, my movie has shipped!! Yeah!!!!!!
Check out my trailor @ http://www.brittneyskyexxx.com/sexpose !!! I think its fucking hot!! And this is def the hottest movie I've ever been in and by far the best sex I've had on film ever!!!! The last scene was my ultimate fuck fantasy lived out!!!! Fuck I'm getting horny sitting here thinking about it!! Order now, I promise you won't be dissapointed!!
So, all you fuckers that buy it here can get in for free and party with us brittney style which means really fucking hard!! So, yeah buy my movie, get on the guest list……. there's a link to buy the movie right here!!! http://www.brittneyskyexxx.com/sexpose And we have a few for sale at the door for u lazy fucks that don't get it in time.
So, how rad is this, bring your movie to my party, we'll have the girls from the movie running around with pockets full of sharpies to sign ur movie and you get in for free!!! I got all the hot girls from the movie there to sign your copies and Tera and I too!!! Now ladies!! I want you there!!! First hundred girls get a special gift!!! So, if u wanna come, I so want you there!!! Girls are free baby!!!
So send me ur names and you'll be on the list but we are girl friendly, I want as much pussy there as possible so even if you don't get on the list..hot girls will have no problem gettiing in!!!! I love my bitches!!! Lol Ok so that's it!!!
Pride last week was fucking sick!!! I'll post pix today!!!! Love you fuckers!!!! Can't wait to see you all!!!!
Red carpet starts at 9pm so don't be too late!!!! Post me comments if I forgot anything here!!!! Oh and last but least, yes u know I'm a UFC addict so yes some of my UFC favorites will be there 4 the ladies!!! And guys I'm sure you can get pix with them too…..Lol….