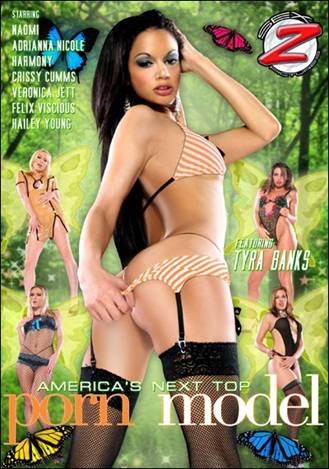 TYRA VS. TYRA: AMERICA'S NEXT TOP PORN MODEL
(HOLLYWOOD, CA) Round number one in the Tyra Banks versus Tyra Banxxx war of words might have went in favor of the famous fashion model however, when Tyra Banxxx the XXX porn star decided to remain in the wonderful world of adult and continue performing, she had the last laugh over the famous runway model.
Sex Z Pictures is happy to present America's Next Top Porn Model a movie that pokes some sexy fun at Tyra's daytime TV talk show due in stores Monday, October 23rd.
"She wasn't all that nice to me when the cameras were off," admitted Tyra Banxxx during and interview a few days following the TV show's taping. "I mean she was all sweet during the show, but during the breaks, she was a little bit pissed off or something."
Apparently the mainstream Tyra was quite upset and embarrassed when a newsstand cover of Xtreme Magazine was brought to her attention. The front glossy cover had a buck naked photo of Tyra Banxxx in full glory with a headline that blared Totally Tyra.
The tantalizing photo of Tyra looked shockingly similar to her mainstream counterpart prompting Tyra Banks and her handlers to become quite upset. Veteran director Roy Karch conferred with Sex Z Pictures' maverick owner Bo Kenney and the two decided to make America's Next Top Porn Model starring Tyra Banxxx in a fun parody.
"It's basically a bunch of girls being asked to compete against each other by performing sex scenes," Karch stated over a turkey on wheat sandwich at a Hollywood eatery. "There is great sex with Tyra Banxxx and the other girls so what more could you want than that," Karch continued.
The reason Tyra Banxxx was brought onto the Tyra Banks TV show was in hopes that Tyra, the show's host would be able to convince her to stop using her porn name and quit the adult business.
Flanked by her then boyfriend, Tyra seemed to agree with most everything the mainstream Tyra asked of her including a hastily made decision to stop appearing in porn movies.
"I never wanted to quit adult but she made it seem like I was doing something terribly wrong which just wasn't the case," the porn actress said.
"I find it funny that a beautiful girl like Tyra Banks who made her career by walking the runways showing off her tits and ass would criticize a girl for making her living showing off her tits and ass. I really don't see the two career choices being polar opposites," commented director Will Rider who is a fan of many of Sex Z Pictures' movies.
In fact, Bo Kenney wouldn't mind having the other Tyra in a movie saying, "Tell her I'll give her one million dollars to participate in an X-rated movie for Sex Z Pictures. I don't really think she needs the money."
America's Next Top Porn Model starring Tyra Banxxx, Harmony, Naomi, Felix Vicious, Crissy Cums, Veronica Jett, Adrianna Nicole and Hailey Young includes seven sex scenes including blow jobs, three-ways, anal sex, and a double penetration.
America can now be the judge of who wins this round of the Tyra vs.Tyra fiasco.
America's Next Top Porn Model from Sex Z Pictures will be in stores Monday, October 23rd.
Check out www.sexzvod.com and www.myspace.com/sexzpictures for more information
For sales information on Sex Z Pictures contact: Steve Miller, Sex Z Pictures, steve@sexz.net, (818) 739-9241 or
Bradley, Sex Z Pictures, bradley@sexz.net, (888) 303-5443
For more information on Sex Z Pictures contact: Jeff Mullen, All Media Play, jeff@allmediaplay.com