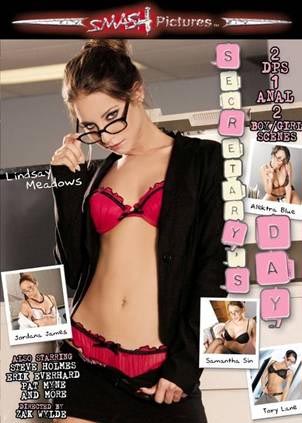 Fayner Posts: It is about time someone recognized our hardworking secretaries who slave day and night in skimpy outfits with glossed lips and the taste of semen on their breath from sucking off someone in a higher position in hopes of moving up the corporate ladder…good for Smash Pictures. Secretaries are hot and slutty and lonely with many cats at home they baby 'cause they got corns on their feet and no one wants to fuck a chick with corns, right?
(HOLLYWOOD, CA) Do you ever walk into your office in the morning and notice that your secretary looks really gorgeous even with her hair pulled back and with those thick glasses hanging on her nose?
Of course you wouldn't dare think of doing anything improper to disturb your professional relationship, but what if you dared think the impossible?
What if you had the balls and decided today, Secretary's Day was the perfect day to lift up her skirt and bang her juice box right there in the office? Maybe you'd get lucky and she wouldn't turn you down for some good old fashioned desktop office sex that you really deserve.
Smash Pictures brings to life everyman's workday fantasy with a sexual explosion so naughty, so thought provoking and so wrong that you won't be able to stop watching as Secretary's Day hits stores Thursday, October 12th offering some serious 'what if' possibilities.
Directed by Zak Wylde and starring a stellar cast of in-office cuties, Secretary's Day allows you to enjoy your private fantasy while keeping your day job as you witness mouthwatering office blowjobs, perfect tits, tiny panties being pulled down past lovely long legs and a perfect view at your secretary's pussy.
This is no ordinary porn flick as most men have faced a personal crisis of whether or not to 'go for it' while at work. Normally the answer is no, but these girls are so hot that you won't be able to resist the urge to participate in some dirty office afternoon delight.
You might get caught by your boss, but all of these sophisticated babes in Secretary's Day share a passion for getting fucked and that's exactly what they do as each one of them is a super-sized slut ready to take on the biggest dicks in the office.
In fact, Smash Pictures has been on a roll providing the best that the adult entertainment world has to offer with a steady string of superlative releases and Secretary's Day is packed with all of the nasty excitement that makes Smash a world favorite. Check out their stunning array of titles on their brand new website located at www.smashdvds.com
Starring:Lindsay Meadows, Tory Lane, Alektra Blue, Samantha Sin, Jordana James, Steve Holmes, and Erik Everhard you'll wish that everyday was Secretary's Day.
Secretary's Day is will be in stores Thursday, October 12th from Smash Pictures.
Smash Pictures offers the viewer 2 different versions to view on the DVD, the feature story version or the straight gonzo version with just sex scene after sex scene, you can view the trailer here:
http://www.smashdvds.com/showgal.php?g=content/ST/trailers/secretarys-day/623/3_1&s=3
For more Smash Pictures videos check out www.smashdvds.com
For sales inquiries contact: Stuart Wall, Smash Pictures, 866-772-7219×104,
fax: 818-772-7754, email: stuart@smashpictures.com
For media inquiries contact: Jeff Mullen, All Media Play, jeff@allmediaplay.com