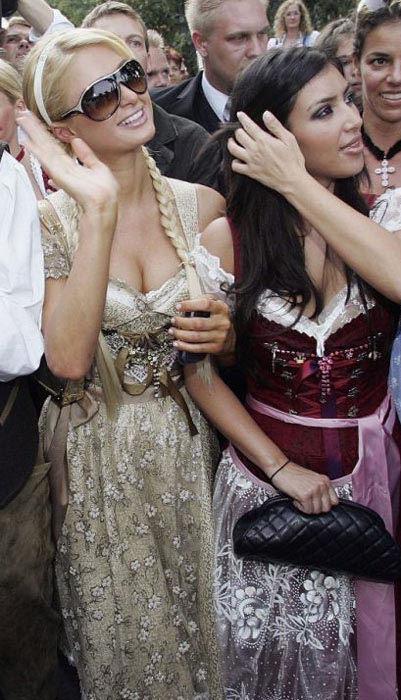 Just like the other stupidest person in America – GW Bush – Paris Hilton gets caught on film waving to Stevie Wonder (who is blind)…Just kidding, she's waving to a soda machine
Fayner Says: I read that Paris' publicist was the one who took the pictures of Paris making out with Travis to keep her streak of most weeks in the spotlight without a single ounce of talent going. How pathetic? I am so sure that if it wasn't for the millions of dollars Paris grew up into she'd be doing porno at this very second…
Taken from Here: Paris Hilton claimed former beauty queen Shanna Moakler punched her in the face at a Hollywood nightclub, police and Hilton's publicist said.
Moakler contended she was attacked by Hilton's ex-boyfriend Stavros Niarchos, who bent her wrists, poured a drink on her and shoved her down some stairs, Moakler publicist Susan Madore said.
Hilton, 25, and Moakler, 31, both filed police reports alleging battery, police Officer Karen Smith said.
The hotel heiress said she was struck around 1 a.m., shortly after arriving at Hyde nightclub with Niarchos, her publicist Elliot Mintz told The Associated Press.
Mintz said Hilton told him Moakler walked up to his client, "used the most vile of language" and then struck Hilton in the jaw with her fist.
Hilton claimed the alleged attack was unprovoked. Madore said Moakler, Miss USA in 1995 and a "Dancing With the Stars" TV reality show contestant this season, exchanged profanities with Hilton when Niarchos stepped in and threatened to beat her.
Police took pictures of Moakler and Hilton at the station, Smith said, and will speak with witnesses at the club as part of their investigation.
Hilton and Moakler's ex-husband, Blink 182 drummer Travis Barker, were recently linked romantically in tabloid reports. Mintz said the two were "just friends."