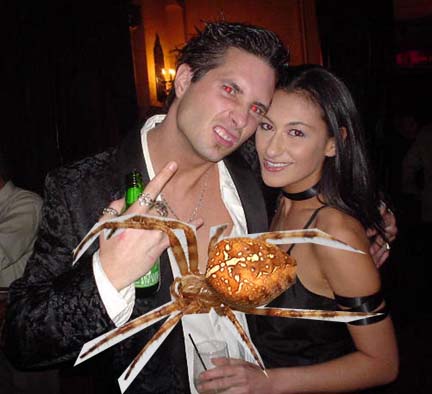 Fayner Posts: Former goo gal Alaura Eden is allergic to spider bites. Like, really bad like.
So, on Saturday night when Alaura, TR and I were headed out to August's birthday party and then the Britney Rears bash I noticed a little bandage on Alaura's leg.
"What happened?" I asked, doing the "boo hoo" face.
"I got bit by a spider! I'm really allergic to them!"
"What a shame," I replied.
Then, moments later as I was attempting to touch her ass and no one was stopping me I realized Dez wasn't with us.
"Where is Dez?" I finally asked.
"Oh, he's really pissed that a spider bit me! Jealous, even! When I left the house he was running around with a golf club whispering "here spidey spidey" inside all the closets. I think he even called up all his muscle from O.C. to come and eliminate the spider."
"It's best you left the house," I stated. "You don't want to be around when Dez gets ahold of that spider. Once I saw him beat down an already dead mouse with a Sugar Daddy candy bar and I had nightmares for weeks."
"Oh, I know!" Alaura responded. "You should have seen when the mailman put mail labeled "Occupant" in our mailbox. Dez went at him with a spacula!"
At press time Dez has still not killed the spider.