TWO dozen bare-breasted porn stars today defied protests to parade on motorcycles and in tanks down a busy city street.
from Reuters and Sun Online

Thousands of people, many of them clicking away with phone cameras, lined the street for the parade by male and female porn actors, most semi-clad in black leather, to publicise an erotica show which opens in Auckland, New Zealand, later this week.
The crowd – four deep in some places – was said to be bigger than the one for the city's annual Santa Parade at Christmas.
Organiser Steve Crow, a local multi-millionaire porn movie distributor and producer, had earlier had won permission to stage the parade from the city council, angering its conservative mayor and several councillors.
Mayor Dick Hubbard said he would review local bylaws in a bid to prevent any more topless parades in Auckland.
"We do want a vibrant city but I think the parade does our image harm rather than good," he said.
Businessmen, schoolboys and Japanese tourists lined Auckland's Queen St to watch the "Boobs on Bikes" parade, which went ahead despite the winter chill, a nippy wind and objections by some city officials.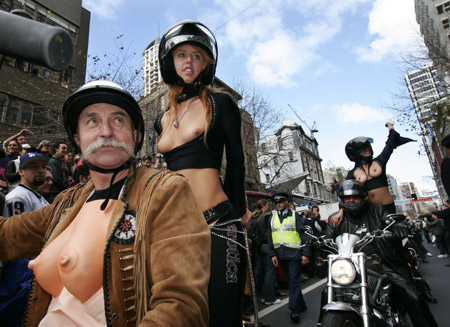 "It does nothing for our image, it does nothing for our city and I just think it gives us indecent exposure around the country and around the world," Auckland city councillor Scott Milne told TV New Zealand.
"It's shabby and it's sleazy and we just don't need it."
The parade of leather-clad porn stars is part of an "Erotica Expo" organised by self-styled "porn king" Steve Crow.
"You'll always have a vocal minority, you're always going to have people who object to everything, be it religion or be it adult entertainment," Crow said.
"If you don't like it don't come," he said.
Many of the curious onlookers came with cameras and mobile telephones to take pictures of the parade. Others held aloft banners which read "Sleaze Brings Disease in Body & Mind".
Most of the local and international porn stars rode pillion on motor bikes during the 30-minute parade. One man clad only in leather pants rode astride a decommissioned army tank.
"I don't know what all the fuss was about, to be honest," an unidentified male onlooker said.
Others debated whether the centrepieces of the parade were real or surgically enhanced.
Police allowed the parade to go ahead because New Zealand law does not regard the public baring of breasts as indecent.
There were no reports of arrests during the parade, which briefly distracted about 4,000 local workers at a nearby trade union protest.