Fayner Posts: George Bush sucks. I know it. You know it. He knows it. His mission to rule the world as he sees fit continues…
From AP: President Bush on Thursday warned North Korea not to test-fire a long- range missile, saying Pyongyang must tell the world its intentions for any launch.
"Launching the missile is unacceptable," Bush said in an East Room news conference alongside Japanese Prime Minister Junichiro Koizumi.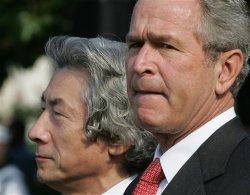 Bush said that he and the Japanese leader discussed concerns about what is loaded onto the missile and where North Korea intends to aim it. He asked for "a full briefing" rom the North Koreas about their intentions.
"There have been no briefings as to what's on top of the missile. He hasn't told anybody where the missile's going," the president said in a reference to North Korean leader Kim Jong Il. "He has an obligation, it seems like to me and to the prime minister, that there be a full briefing to those of us who are concerned about this issue as to what his intentions are."