PLAYBOY magazine's editor-in-chief and its first centrefold model in Indonesia were formally named by police on Thursday as suspects in an indecency case against the publication.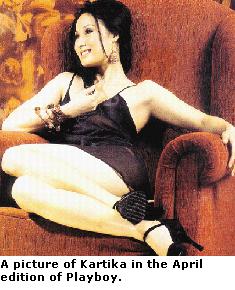 Authorities said they were investigating Kartika Oktavini Gunawan, a woman who posed in lingerie in a premiere edition in April, and Erwin Arnada.
They could be prosecuted, and if convicted, imprisoned for a maximum of two years and eight months.
The investigation is yet another setback for the magazine, which faces strong opposition from radical Muslim groups who accused Playboy of corrupting the nation's morals.
Kartika, 25, the long-haired beauty who was Playboy's centrefold model for its first edition in April, is apparently dismayed at the turn of events.
"Kartika is very shocked at being named a suspect in violating the Criminal Code's Article 282 on indecency," Sinarta Bangun, Kartika's lawyer, told the New Straits Times in a telephone interview.
The indecency charges carry a maximum penalty of two years and two months' imprisonment.
"When Kartika agreed to pose for Playboy, we believed the magazine had been granted permission from the Government to circulate.
"Therefore, we assumed it was all right to pose for the magazine," Sinarta said.
Kartika's pictures were splashed across seven pages of the magazine plus the centrefold, posing in black négligée and a bikini-like outfit.
In the centrefold picture, she was dressed in a blue lace dress. There was no nudity in any of the pictures.
"Kartika feels the clothes she wore for the photographs were decent enough."
Indeed, the Indonesian version of Playboy has not published any nude pictures in keeping with its promise to the Muslim community that it would not emulate its soft-porn American counterpart.
But this has not placated radical Muslims, who attacked and seriously damaged its offices in Jakarta, forcing the magazine to move to majority-Hindu Bali.
Robinson Siregar, deputy chairman of the Press Council media advocacy group, said other magazines have published more revealing content and that Playboy may have been unfairly targeted.
"If Playboy is investigated, all magazines with indecent or perversion content must also be investigated," he said.
"Let's hope the legal process is objective and not conducted based on pressure from certain (religious) groups," he said.
Arnada, a seasoned Indonesian journalist, and Gunawan, have been named suspects, Jakarta police spokesman Col Ketut Untung Yoga said yesterday.
"They are being investigated for breaking an article of Indonesia's criminal code, known as a decency violation," Yoga said.
Playboy's advertisers abandoned the magazine after they were threatened by the radicals.
In her interview with Playboy, Kartika had expressed hopes her appearance in the magazine would help pave the way for her to "go international" in her modelling career.
But as events have shown, the Playboy pictures have brought her more trouble than career advancement.
But the doe-eyed beauty remains undeterred.
"Kartika says she will continue modelling," Sinarta said.