LIGHTS, CAMERA, GET SOME ACTION! SUMMER BASH 2006
SUMMER KICK-OFF BASH WILL BE PACKED WITH ADULT STARS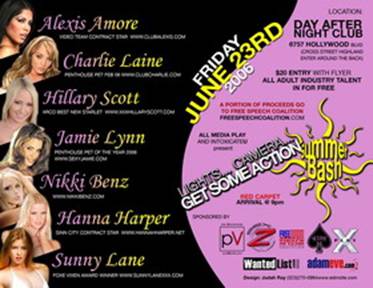 (HOLLYWOOD, CA) Dozens of adult industry parties take place each year but few can compare to what is about to take place as the Lights, Camera, Get Some Action! Summer Bash gets set to rock Hollywood at 9PM Friday, June 23rd at the Day After nightclub.
Pure Vanilla, the leader in anonymous online payments in association with, Adam & Eve, Sex Z Pictures, Sextoy.com, WantedList.com and X-Play are teaming up to throw a party guaranteed to make this a must-be-there evening as the summer sex celebration gets underway immediately following the first night of Erotica LA.
With a rooftop atmosphere and a bevy of superstar talent, a who's who of top adult stars, directors, mainstream celebrities, industry movers and shakers and gorgeous wannabees, Day After nightclub will be the hottest spot in Tinsel Town as the adult entertainment industry gathers for a spectacular party.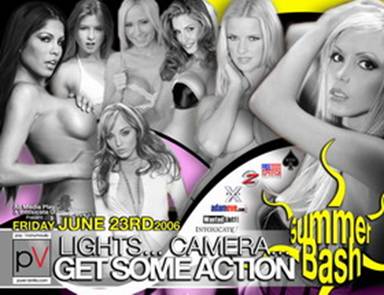 Organized by LA porn party titans All Media Play and Intoxicate U, the Lights, Camera, Get Some Action! Summer Bash will be donating a portion of the proceeds to the Free Speech Coalition.
The red carpet arrivals area will be ablaze in lights as a parade of sexy stars face a barrage of photographers as they make their way into the wild party. Nikki Benz, Video Team's Alexis Amore, Sin City's Hannah Harper, XRCO's Best New Starlet Hillary Scott, Penthouse Pet Charlie Laine, Pet of the Year Jamie Lynn and FOXE Vixen Award winner Sunny Lane will be joined by over 200 of today's top porn stars all partying the night away in grand fashion at the heart of Hollywood and Highland.
An adjacent media room will be abuzz with photographers, media types and national television crews including Gary Garver of the Howard Stern Show capturing the beautiful adult movie stars during this amazing evening.
At the 3 most recent parties thrown by All Media Play and Intoxicate U sex loving souls partied the night away at the massive Dark Angels 2 Burbank bash, the Sex Z Pictures Decline party at the Knitting Factory and the Best Damn Porn Party Period making these the greatest porn parties of all time. The Lights, Camera, Get Some Action Summer Bash promises to deliver everything anyone could want in an amazing bash.
The Free Speech Coalition will be receiving a portion of the proceeds from this party which makes this not only a fun night but an important night as well. Don't miss the Lights Camera, Get Some Action Summer Bash because once it's over it's over!
Gentlemen are encouraged to bring as many ladies as they can fit in their car.
Expect this to be a huge bash!!
All talent, agents (who bring talent) and media will receive complimentary admission paid by the sponsors. All others will be asked to pay the admission charge of $20 and remember that a portion goes to the Free Speech Coalition. There will be a 'swift line' for those in the industry making entry quick and painless. Please pass this on to every girl you know!
This is a benefit wild porn party, there is no guest list but there will be hundreds of porn babes.
Friday, June 23rd, 2006
Doors Open @ 9:00pm
The Day After is Located @ 6757 Hollywood Blvd, Hollywood, CA 90028
*Enter through back* *Off Highland-across from Renaissance Hotel*
For media credentials contact: Shari, media@allmediaplay.com
For other inquiries contact: Brad Thomas, brad@intoxicateu.com