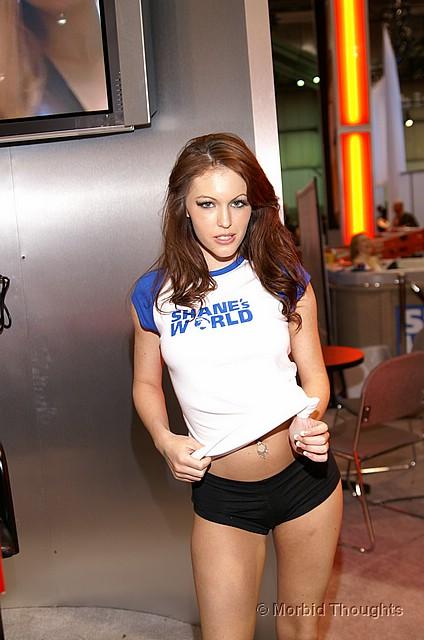 Jenna Presley writes on her MySpace Page: Hey EVERYONE!!!
Another day at work…. I got picked up at 8:15 am and got into hair and makeup at 9am. I was working for Scott Preston, He is a photographer. I was Shooting for CLUB MAGAZINE =D I did two Different shoots for him. The first was a solo. FUCKING HOTT! The setting was a casino and I was the dealer bitches!! I started off fully clothed in a hott P.I.M.P suit with fishnet stockings and Knee high hooker boots that tie up the front. I work my way up on the casino table, which was covered with poker chips and cards, and begin to get NAKED. I finger myself and then appears a dildo which I suck on and then SHOVE it up that tight little pussy of mine till I cum, then there ya have it, The photos are done.
We break for lunch, I had a tuna sandwhich with fruit and a diet pepsi. Yummie, I also had a few cheetos and GIRL SCOUT COOKIES… THIN MINTS that is.
Enter Scott Nails and Lacie Heart. Change of wardrobe for a different set of photos. We head up stairs for a little game of STRIP fooze Ball. Lacie lost… She got naked first but I could just NOT take it, I had to do the same. We then get scott naked and begin to suck his love machine, AFTER i suck Lacie of course!! We each get our chance to fuck Scott in some CRAZY positions on the fooze ball table. You will have to see these photos in a few months when they appear in club, Just so hott. After fucking the shit out of Scott, he is ready to cum so on our knees we go and Scott drops his load all over our tounges and faces. Hmmm and don't mind me BUT His cum was YUMMIE..!!!
Thats all till tomorrow!! TOMORROW I am doing soft core… NO PENITRATION… That means… NO COCK enters MY PUSSY =( But ill let ya all know about it tomorrow, I am "pretending" to fuck Joey Ray, he is represented by Exotic Star Models. He is a total HOTTIE… Who knows, maybe Ill score and get some action… haha
xoxo Jenna Presley