Eva Angelina & Jeneveve Jolie feature tonight in City of Industry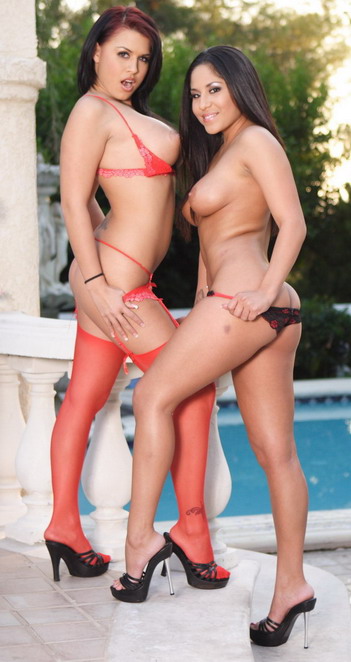 WOODLAND HILLS, Calif. –
Ever so often 2 Latin Beauty adult film stars decide to team up to give there fans some extra Latin Spice… This weekend it happens again Jenaveve Jolie & Eva Angelina make there feature dancing duo debut. They will be performing at the Spearmint Rhino in City of Industry Ca. for First of many tour dates in there duo Feature Dancing Career. "We can't wait to give our fans a dose of our wild and crazy shows… We have lived together & have done scenes together what else was there left to do then dance together. We are both so excited to be working together and meet all our great fans."
Before the show, Jennaveve & Eva will be greeting her fans, and will be available for lap dances, autographs and polaroids after the show. They will also have her latest adult film titles, web site memberships and personalized 8×10's for purchase.
The Spearmint Rhino is located at 15411 East Valley Boulevard., City Of Industry, CA. 91746 or call (626) 336-6892 Showtimes with Friday Matinée Thursday: 10 pm & 12 am Friday: 2 pm, 9 pm, 11 pm & 1 am Saturday: 11 pm & 1 am
Jolie's can be found on the web at www.clubjenaveve.com, and Angelina's website is www.club4eva.com.