Celebrity sex tapes, once a stigma, becoming big business
NY TIMES NEWS SERVICE , NEW YORK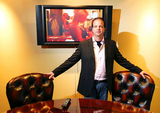 David Joseph, pictured in his Chatsworth, California office on Feb. 27, sells sex tapes of celebrities like Paris Hilton, seen on the screen in the background.
PHOTO: NY TIMES NEWS SERVICE

Two years ago Red Light District, a little known video company in California, hit the jackpot when it landed distribution rights to the Paris Hilton sex tape, an explicit bedroom video shot by a former boyfriend. The DVD has sold some 600,000 copies, establishing Red Light District as the leading player in a lucrative niche of the pornography industry: A purveyor of explicit videos of famous people, sold to an eager public, often over the vehement objections of the participants.
Hilton tried to stop distribution of the tape, although its notoriety paradoxically catapulted her to an even higher orbit of fame, establishing her as a kind of postmodern celebrity, leading to perfume deals, a memoir and the covers of Vanity Fair and W.
For its part Red Light District is hoping for a follow-up hit with a new celebrity sex tape featuring two rock stars, Kid Rock and Scott Stapp, who is the former front man of a Christian rock group, Creed. David Joseph, the president of Red Light, predicts he could sell 300,000 to 400,000 copies of the tape at US$20 to US$24 wholesale.
"Everybody is going to want to see what these guys' lives are really like when they're on the road with the groupies," he said.
But for now he can't sell it. On Feb. 28 a federal judge, in response to a lawsuit brought by Kid Rock, ordered Red Light to shut down Web sites showing snippets of the film.
"We believe that this tape was a private tape, improperly obtained," said William Horton, Kid Rock's lawyer, in an interview. "And we intend to keep it private."
He added, "We're not hankering for a license agreement. We don't want any money."
After two additional lawsuits were filed against Red Light last week — by Stapp and a woman appearing on the tape, which shows the two stars receiving oral sex in a motor home after a concert in 1999 — Red Light says it will not press its case in the courts, but will try to negotiate with those featured in the tape for the rights to sell it.
Whatever the resolution of this conflict, gone are the days when a sex tape — which might seem the most embarrassing of disclosures — automatically destroys a celebrity's career. Although the actor Rob Lowe became a pariah in Hollywood in the 1980s when he taped himself having sex with two women, one a minor, amateur sex tapes today seem to juice up careers, at least for celebrities who already have a certain cheese factor.
Besides Hilton, there is Pamela Anderson, whose fame as a B-list actress and tabloid favorite seemed to accelerate when an explicit tape of her having sex with her husband, the rocker Tommy Lee, was shown on the Internet in 1997, despite the couple's attempts to suppress it in court.
In late 2004 a former pro wrestling star named Chyna Doll and her husband actually approached Red Light District to distribute their amateur sex tape. More than 100,000 copies have sold, the company says, with its stars sharing the profits. Chyna Doll, whose real name is Joanne Laurer, got a career boost after the DVDs release when she was cast on the popular VH1 reality show The Surreal Life.
Joe Levy, the executive editor of Rolling Stone, which covered the brouhaha over the Rob Lowe tape in the `80s, said, "The huge difference between nearly 20 years ago and now is that pornography is more easily available, therefore there is far less of a stigma attached to it."
Levy added: "In this day and age everyone has their own video camera and is free to use it in whatever manner they desire. The more people that make these tapes for their own pleasure, the less they think it horrifying that others have done so too."
Celebrity sex tapes surface with such regularity that cynics question whether the stars themselves may be complicit, despite their efforts to suppress them in court, because of the publicity they bring. Although he is suing Red Light to keep his tape out of public hands, Kid Rock told reporters this month: "What perfect timing. I got a record coming up."
Questions surround the dealings that move a celebrity sex tape from camera to middleman to distributor to the public. How does a tape of the most intimate and private acts end up being sold to hundreds of thousands of viewers, often over the objections of the participants?
Although the US$10 billion-a-year pornography industry is increasingly mainstream, how legitimate is Red Light's shadowy corner of the business?
Joseph said all his dealings have been on the up and up.
"Of course I ask them how they get it and make sure it's not stolen," he said, referring to the peddlers of celebrity sex tapes.
For the Paris Hilton tape Joseph said he struck a deal with Rick Salomon, its co-star, who had been selling the tape himself for US$50 on a Web site. Joseph said he agreed to give nearly 50 percent of the distribution profits to Salomon, although he declined to name a figure. (The tape won an award from a porn industry trade group for Top Selling Title of the Year in 2005.)