Chloe Sevigny Can't Escape Brown Bunny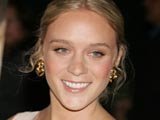 Chloe Sevigny and Bill Paxton star in a new HBO series called Big Love about a polygamist husband and his three wives. Paxton and Sevigny
paid a visit
to obnoxious snorefest, The View, yesterday to promote the show. Everything was running pretty smoothly until loudmouth, Joy Behar, brought up Chloe Sevigny's extremely graphic scene in
Brown Bunny
in which she performs oral sex on co-star,
Vincent Gallo
.
Though the actors masked their fury from viewers, Paxton is said to have exploded off-camera. According to one source, he even vowed never to appear on the show again. Sevigny has frequently discussed the scene from the controversial 2003 film, but Paxton apparently didn't want her to have to relive it on a daytime talk show. One insider notes, "The View" is "a show that is broadcast to housewives all over Middle America. [Oral sex] isn't the kind of thing you talk about."
Yeah, because as soon as you get married and have kids, any talk of sex is off limits. I hear our hormones and vaginas cease to exist, as do any desires for sexual activity. That's why you never hear stories about women's "sexual peaks" in our thirties and how we turn into insatiable, multiorgasmic horndogs. Before you go giving Chloe a hard time for blowing gross, trollish Vincent Gallo, you should watch that scene in Brown Bunny. In my sluttier days, I probably would have done him just to see what it was like. The dude is hung like a horse and his ugliness is the reason God invented the Reverse Cowgirl.