You can some watch Eve Laurence XXX movies online by clicking HERE
Lukeford: So we're sitting here with the lovely and big titted Eve Laurence
Eve Laurence: Oh ya, huge, can wrap them around a cock and hide it. LOL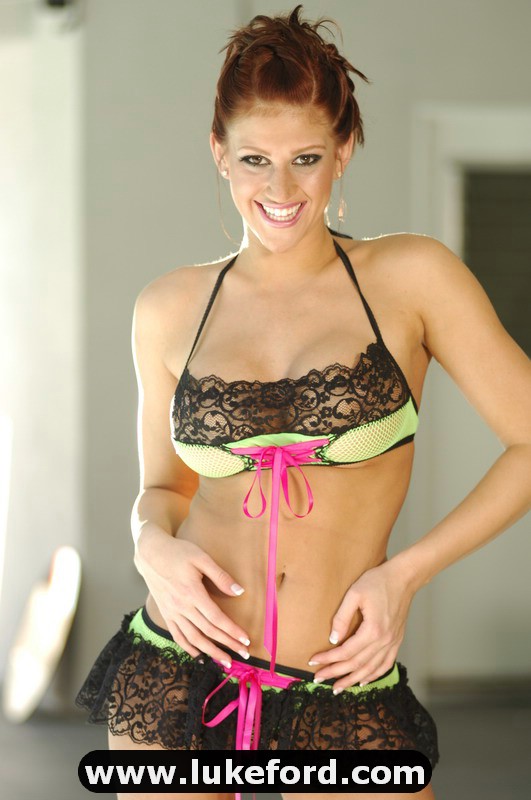 Pic 1: Eve Laurence
Pic 2: Eve Laurence
Lukeford: You always have a dirty mind!!!
Eve Laurence: I love your smile
Lukeford: Well thank you!!!!!!!
Eve Laurence: I'm a porn chic
Lukeford: Ya don't say . So, Eve… you seemed to have disappeared off the map of porn valley, when did you leave?
Eve Laurence: Hmmmm, right after my 20th birthday in October.
Lukeford: Ok, the obvious question is, WHY did you leave?
Eve Laurence:I would have to say that I've been in the industry since I was 18, and I guess I'm growing up. I needed to take some time to prioritize.
Pic 3: Eve Laurence
Pic 4: Eve Laurence
Lukeford:What are your priorities now?
Eve Laurence:Happiness. Family/Friends & of course… FUCKING!!
Lukeford:Ya????? Ok, hold on… you fucked a lot ON CAMERA…. so you fuck more off camera?
Eve Laurence: I think it should been quality not quantity
Lukeford:Ok, fair enough. You saying the fucking on camera got boring? But now that you don't fuck every day on camera you enjoy it more?
Eve Laurence: Actually I miss fucking on camera, I must masturbate at least 6 times a day.
Lukeford:Come on, be serious… your clit would fall off!
Eve Laurence: No it won't, well it hasn't yet. LOL. Should I be worried. . . LOL
Pic 5: Eve Laurence hardcore
Pic 6: Eve Laurence hardcore

Lukeford: I heard from some people that you always seemed to be bored during your scenes. Were you?
Eve Laurence: Hhmmmm, I think maybe boy/girl scenes just aren't cutting it anymore. . . I need some excitement on camera.
Lukeford: Such as? Midgets? Interracial? Trannies?
Eve Laurence: LOL… hahaha
Lukeford:What gets you off? What gets you excited now?
Eve Laurence:I like taking it in the ass. I cum so hard.
Pic 7: Eve Laurence hardcore
Pic 8: Eve Laurence giving head
Lukeford: You're only 20, shit when I was 20 I got wood if the wind blew! So, you do anal off camera now?
Eve Laurence:It's a different orgasm. Ues. I like to fuck myself in the ass while taking a hot steam shower.
Lukeford:What about a cock? Have you taken cock in the ass yet?
Eve Laurence:Hell yeah.
Lukeford: Really? But you never did Anal on camera!
Eve Laurence: nope
Pic 9: Eve Laurence tit fucking
Pic 10: Eve Laurence taking a facial

Lukeford: You consider yourself anal friendly?
Eve Laurence: DO you mean industry anal friendly?
Lukeford: Either industry or outside
Eve Laurence: Fact is I didn't think I would like anal, I tried it I LOVE IT; and if the proper circumstances yes I would be industry anal friendly
Lukeford:Ok, hold on… when did you first have anal sex, with a penis?
Eve Laurence:hmmmm. . . I tried it a few months ago, but lately I've been doing it more frequently
Pic 11: Eve Laurence at home
Pic 12: Eve Laurence at home

Lukeford: You mean since you got out of the business?
Eve Laurence: With a penis yes. But while I was still active in the industry I started shoot g/g anal- solo anal and that was what sparked the fascination.
Lukeford:So, back to the industry stuff. You were repped by Direct Models. How did you like working with Direct?
Eve Laurence: Like most business relationships direct and I have had our ups and downs. But over all Direct Models is very reputable. Derek Hay is great at what he does and if you want to work constantly in this industry he is were you should be.
Pic 13: Eve Laurence at home
Pic 14: Eve Laurence at home

Lukeford:Did you hear about the praise Roxy Jezel gave to Fran? How did you feel about Fran?
Eve Laurence: I love Fran, she is like a second mother, she always told me what i needed to hear when I needed to hear it,
Lukeford: You had a lot of box covers in your time in the business… but you always seemed to be out of the spotlight. Did you crave attention, the spotlight? Why didn't you ever want to take your career to the next level?
Eve Laurence: Of course I crave(ed) the attention why else would I be in this industry. I think where I seem to have a problem is going after the things I want, no one is going to give me what I want I have to go out and get it for myself.
Lukeford:Did anyone ever offer you a contract?
Eve Laurence: I spoke w/ a couple big companies when I 1st came into the business.
Lukeford:And?
Eve Laurence: But nothing ever came of it.
Lukeford: Now that you're out, tell me the truth… any casting couch sessions… no names!!!
Eve Laurence: Hell no. No one has ever even asked me.
Pic 15: Eve Laurence at home
Pic 16: Eve Laurence at home
Pic 34: Roxy Jezel
Lukeford: How tall are you?
Eve Laurence: 5'7″
Lukeford:Booby size?
Eve Laurence:36D
Lukeford:I heard rumors that your implants were really bothering you? To the point where it has become a medical issue
Eve Laurence:Actually, I found out the problem was anxeity and a mild heart condition. Part of why I took a break from the biz.
Lukeford:So no booby issues?
Eve Laurence:I was having numbness on the left side of my body, the first thing I thought was my implants but blood work proved other wise.
Pic 17: Eve Laurence at home
Pic 18: Eve Laurence at home

Lukeford: You like your tits? I like your tits, we all like your tits.
Eve Laurence:Ya, but I would like a bigger ass though, so I'm hitting the gym hard.
Lukeford: Bigger ass? Come again? What now?
Eve Laurence: I'd like to look stacked more proportion, BIGGER ASS
Lukeford: You still ACT and SOUND like a pornstar…. get the itch to come back?
Eve Laurence:Of course I do I think about it alot.
Lukeford: What do you now? I know you live in Maryland… so what the hell is there to do in Maryland?
Eve Laurence:But I also had to prove to myself that I can make it outside of the industry I'm not a slave to it.
Lukeford: Are you an Asst. for a Congressman?
Eve Laurence:LOL not yet. I work for a mortgage company.
Lukeford: Wow, nice. What's your education background?
Eve Laurence:I have 1/2 year till I can get my AA degree. I'd like to go to law school though. Get into Real Estate law. Lots of school is in my future.
Lukeford: Holy Shit, a pornstar with major aspirations!
Eve Laurence: I won't look this cute forever.
Pic 19: Eve Laurence at home spread wide
Pic 20: Eve Laurence holiday cheer
Lukeford: So, school in your future but fucking on camera still on your mind?
Eve Laurence: it's always on my mind. It makes me feel powerful.
Lukeford: You miss the money?
Eve Laurence:Seeing I make like $10 a hour, hell yea. But I know that the industry will have a spot for me. The personal satisfaction I get for working hard can not be replaced. I wasn't really stimulated just shooting scenes. I like to keep busy.
Lukeford: There's a big deal being made now about "privates", ever get offered, ever accept, ever tempted?
Eve Laurence:I've had offers and I've been tempted but never followed through. Mentally & emotionally it would be hard for me to go through with.
Lukeford: So I take it you have a boyfriend, is he from the industry?
Eve Laurence:No, he is a child hood crush/love.
Lukeford: Been with him long?
Eve Laurence: I've known him since I was 16 things became serious about a year ago.
Lukeford: How did he like the business?
Eve Laurence: He dealt with it. No guy wants to think about his princess getting fucked by another guy. Work or not.
Pic 21: Eve Laurence bright eyed
Pic 22: Eve Laurence showing her assets
Lukeford: Ever bring him home any girls? For a little party?
Eve Laurence: I've tried so many times, he only wants me forever. You know I dig girls.
Lukeford: I know you're close to Eva Angelina…. tell me about that
Eve Laurence: I know her to death!
Lukeford: Do tell. DETAILS
Eve Laurence: If anyone hurt her I would seriouly hurt them. We love each other, hug kiss take bubble baths. etc. Drives the boys crazy. I've known Eva since I came into the industry, she is my best friend.
Lukeford: You mean "love, love", or is this just porn love?
Eve Laurence:LOve love, she's a cool ass chick anyone who thinks otherwise isn't very intelligent.
Lukeford: You two fuck a lot? On and off?
Eve Laurence: LOL oh yeah, when I was in CA we fucked all the time LOL. Does that turn you on?
Lukeford: Um, yes mam
Eve Laurence:LOL Thinking of me licking her cute little pussy LOL
Lukeford: Ok, enough now!!! Eva's doing a big movie for Defiance Films… originallt you were suppose to be in it? Thoughts??? I guess we'll see. That's lame…. you going to come back for this title with Eva? Besides Eva? Who else is your favorite girl to work with?
Eve Laurence: I'd ike to work with Tory Lane. Harmony again too!.
Pic 23: Eve Laurence and her breasts
Pic 24: Eve Laurence blowing Santa
Pic 32: Tory Lane
Pic 33: Eva Angelina
Lukeford: Tory's known as being a sexual terror, could you handle her?
Eve Laurence: She knows how to handle me
Lukeford: Besides Eva, play around with anyone else when the cameras were off?
Eve Laurence: Nah shes it, the only and only
Lukeford: I can't get past the size of your boobs…. people must stare a lot!
Eve Laurence: hmmmmm kinda, I seem to wear alot of sweat shirts in MD it's cold here
Lukeford: What's the area of your body that gets you the hottest when touched?
Eve Laurence: actually when i get turned on the back of my neck below my ear gets really warm, I get really turned on when guys kiss me there, it's like it's connected to my clit.
Lukeford: Tell me about your orgasms!
Eve Laurence:I can cum really hard in reg miss; then anal makes me cum too. Sometimes I can squirt too.
Lukeford: Another Cytherea?
Eve Laurence: ah no, it's not that extreme, but really intense for me
Lukeford: On camera, same way? Or just in your personal life?
Eve Laurence: I have once on camera, more in my personal life
Lukeford: Wow, with all the scenes you've done… that's a low %, so the guys in the business don't do it for you? No wonder you left.
Eve Laurence:It's not like that, in porn you always have to open up to the camera, for me to squirt I have to have a deep g-spot orgasm
Pic 25: Eve Laurence getting drilled by Santa
Pic 26: Eve Laurence on top of Santa
Lukeford: Deep???
Eve Laurence: balls deeps, up in my gutts LOL
Lukeford: Wow. So, you like the big cocks? Wide? Sasha, Ben English, Chris Charming types?
Eve Laurence: Ah big cock are cool on video it looks good, but in my personal life i perfer a average cock
Lukeford: Even in the ass?
Eve Laurence:Never taken a huge dick in my ass. My bf is above average and i enjoy it.
Lukeford: Ok, back to Eva. You danced around the issue of a comeback? Your fans will want to know, are you coming back?
Eve Laurence:I never really said that I am not going to shot porn anymore. I just needed some time for my self to take care of my health and mind set so. . . guess they'll have to wait and see.
Lukeford: Ok, so you'll come back, do a hot G/G with Eva and also take a guy in the booty? SWEAR IT
Eve Laurence: Maybe you never know. . . can you imagine how hot that would be.
Lukeford: What companies you like to shoot for?
Eve Laurence: I like shooting in general, I like to shoot for alot of companies
Lukeford: Favorites?
Eve Laurence: Defiance, Naughty America
Pic 27: Eve Laurence hardcore
Pic 28: Eve Laurence
Lukeford: Favorite Directors?
Eve Laurence: mike adams is fun to work with, he always has a relaxed enviorment onset. Any set like that I would love to be on
Lukeford: Ok, you forgot to mention the OWNER of this website, Taylor Rain… didn't you shoot in SKI BITCH for her?
Eve Laurence: TMfR is cool, we go way back
Lukeford: How far back?
Eve Laurence: I shoot ski bitch over 1 year ago
Lukeford: LOL, SKi Bitch was shot in July
Eve Laurence: since I first got into the industry, we lived in the same apt building
Lukeford: Ok, you're a pothead, let me guess!
Eve Laurence: it's Jan, we shot it last october 2004
Lukeford: "Over 1 year ago" … you shot it 6 months ago. Are you high right now? Do you and TMFR have the same weed dealer?
Eve Laurence: NO I came home in October how could I shoot for her.
Lukeford: So, tell me about you and Taylor
Eve Laurence: What would you like to know?
Lukeford: Everything
Eve Laurence: We haven't talked in a while, she's cool, when i did smoke pot she always had the best bud.
Lukeford: That's it? No partying? Hanging out? Wild times?
Eve Laurence: Hmmm, things would get crazy when we lived on sepulveda. But we both arn't like that anymore
Lukeford: Crazy? Explain!
Eve Laurence: Nothing really the regular getting caught up in the porn life stuff Taylor Rain is a cool as chic I wish her all the luck in the world and she knows I got her back.
Lukeford: Come on, that's sooo lame!!! This is Lukeford, we pull no punches here! Wild sex parties?
Eve Laurence: The same goes with Tory Lane. Harmony Rose, and of course Eva Angelina

Lukeford: You're avoiding the question, TMFR won't get pissed
Eve Laurence: Taylor will tell you we justchilled an d got fucked up when we hung out.
Lukeford: You're very politically correct!! Sucks for us!
Eve Laurence: We relive the fucked up moments, I'd rather think about when her and I smoked pot with Nate at Keith"S house. Thats good times. I'd rather not remember how stupid we were and how fucked up on drugs we were. ya know.
Lukeford: You talk alot about people you like, who are the ones you can't stand?
Eve Laurence: There isn't really anyone I can't stand. I'm not that kinda chic. Who am i to judge
Lukeford: I hear rumors about you being in an upcoming music video for the rock group Melee, any truth to that?
Eve Laurence: Maybe I guess you'll have to see
Lukeford: Bullshit, tell me details.
Eve Laurence: I don't know anything I swear
Lukeford: I also hear that before you left, a company was ready to give you a contract… true?
Eve Laurence: Really what company was that?
Pic 29: Eve Laurence
Pic 30: Eve Laurence
Pic 31: Eve Laurence
Pic 34: Taylor Rain

Lukeford: Come on, stop playing innocent!
Eve Laurence: Really let me know so i can call them
Lukeford: If a company offered you a contract today, would you pack your bags and come back to LA?
Eve Laurence: Sure after my lawyer looked over the contract
Lukeford: Now that sounds official… if someone makes you a good offer, you'd come back, lay on your back and take penis in the booty for your fans????
Eve Laurence: For my fans and law school.
Lukeford: Ever fuck anyone famous?
Eve Laurence: Hmmm no. Have you?
Lukeford: Hey now!!! Yes I have, when I was 16 I banged the homecoming queen, everyone in school knew her! Eve Laurence: jokes, you has jokes. I see you have a website coming soon, clubevelaurence.com… you excited?
Eve Laurence: You sure do know alot about me lol. Of course i am,
Lukeford: What can your fans look forward to?
Eve Laurence: Gettting an inside look at me.
Lukeford: and???????
Eve Laurence: Up close and personal lol
Pic 32: Tory Lane
Pic 33: Eva Angelina
Lukeford: So you'll fuck on your websute?
Eve Laurence: oh course lol
Lukeford: email fans?
Eve Laurence: it's porn they'll get to see my ass get fucked
Lukeford: Will you be doing fan requests?
Eve Laurence: sure i want my fans to feel like there are apart of my world it is important to me.
Lukeford: Live Chats? Personal Videos for fans? Emails to and from fans? Come on, I'll sign up!
Eve Laurence: It's important to me to have my fans feel like they are apart of my world.

Lukeford: Maybe you and Taylor Rain will do some things together on your site! And Eva. And Harmony. And Tory. Wow, I'm excited
Eve Laurence: Of course- They are all hot cool ass chics. I'm excited too.
Lukeford: So this will be a completely interactive site between you and your fans?
Eve Laurence: Tori and I have discussed doin content trades Eva too. Yes, my intro will be like "step into my world become my fantasy"
Lukeford: You going to take requests? Meaning if I ask you to make me a video of you in the shower fucking yourself in the ass with a dildo and screamin' my name, you'll make it for me?
Eve Laurence: sure. Would you make me one? LOL
Lukeford: How much will you charge for these vids?
Eve Laurence: I'm still working out the details, but i'll keep you updated
Lukeford: Any last words for your fans?
Eve Laurence: Don't cry for me porn valley, the truth is I never left you. LOL
Lukeford: Come on… say goodbye to your fans in a sexy way!
Eve Laurence: Look forward to more hardcore pussy fucking, dick sucking, and soon to come ass pounding from yours truly Eve Laurence.
Lukeford: You are incredible! You really are!
Eve Laurence: I'm just me

Lukeford: Thank goodness for that!