SINCE THERE'S A BUNCH OF PICTURES TAKEN BY JONNI DARKKO OF HOT NAKED CHICKS IN THE NEXT POST FOR YOU TO DROOL OVER AND DO WHATEVER YOU DO (WE'D RATHER NOT KNOW) WE DECIDED TO LIMIT TODAY'S AWARDS TO JUST DUDES. ENJOY.
THE "I ONCE WAS A LOVER OF COKE, NOW I'M A COMPUTER GAME GEEK FIGHTING HOBGOBLINS AND TROLLS IN A FAIRYTALE LAND WITH MAGIC SPELLS AND A QUEER CLOAK" AWARD
WINNER: TEEN HEARTTHROB DEZ
SO SAD WERE WE WHEN WE STOPPED BY DEZ'S LOVESHACK OVER THE WEEKEND TO FIND THE USUALLY-ALWAYS COKED-UP DEZ SITTING BEHIND HIS COMPUTER PLAYING SOME NERDY INTERACTIVE DRAGON-SLAYING VIDEO GAME. THERE WAS NO COCAINE ANYWHERE. WE LOOKED. TWICE. "FUCK THAT, DAWG!" HE SAID. "MY CHARACTER IS WORTH $5,000!" WE LEFT.
THE "BEST HAIR" AWARD
WINNER: AHN TRAN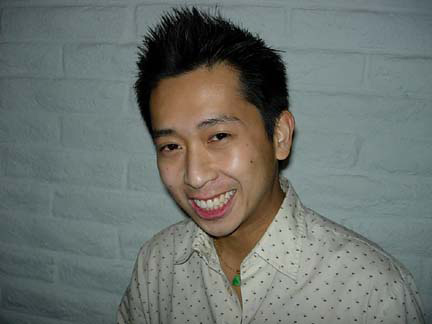 THIS ONE WENT DOWN TO THE WIRE BETWEEN AHN AND HIS MORTAL ENEMY DANNY TANG. REMEMBER, IT WAS LAST YEAR'S "BEST HAIR" HONORS GOING TO DANNY WHICH LED TO AHN'S BREAKDOWN, FOLLOWED BY HIS SOLEMN PLEDGE TO BEAT TANG THIS YEAR. WELL, HE DID IT, AND NOT NECESSARILY DUE TO HIS ULTRA-SUPERIOR LOCKS, BUT BECAUSE DANNY BOWED OUT GRACEFULLY AND CHOPPED HIS FANTASTIC MANE DAYS BEFORE THE FINAL VOTE WAS TALLIED. BUT WE WON'T TAKE THIS DAY FROM YOUNG AHN OF www.wantedlist.com FAME BY POINTING THAT OUT. CONGRATULATIONS. WILL YOU NOW STOP WHIMPERING ABOUT LAST YEARS LOSS? THANKS, AHN.
THE "GREATEST AMERICAN HERO" AWARD
WINNER: TYLER DURDEN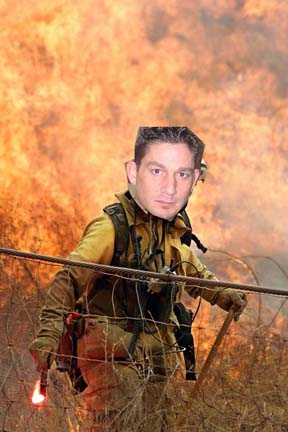 People rarely step up and take one for the team, risk their precious lives in order to protect the existence of others, others like children, puppy dogs and old wart-faced ladies. But Tyler Durden did. As the latest barrage of wildfires spread in L.A. some months back, the male swordsman brought danger to himself by assisting the fire department in their efforts to curb the fire. Sure, his house was in the direct path of the fire's wrath, but we think he'd be there fighting the flame whether his shit was in jeopardy of being torched or not. So here's to Tyler, protector of both time and space.