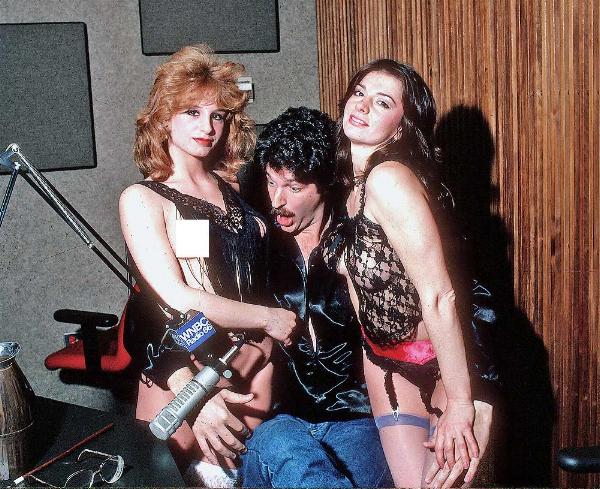 SITTING PRETTY ATOP A PILE OF CASH EARNED FROM PORN STARS AND DYKES AND ALL-AROUND WHORES WHO MADE HIS RADIO SHOW WORTH CHECKING IN FOR ALL THEM YEARS, HOWARD DISSES THEIR CONTRIBUTION AND HIS FORMAT FOR MIDDLE-AGED MEDIOCRITY
From www.newsmax.com Howard Stern rejects the conventional wisdom that he will be less funny when his bawdy talk show moves to Sirius Satellite Radio next month, where he will no longer be subject to federal decency laws. "People have said to me, 'The FCC is such a good foil for you. You need it.' It's such bullsh–t," he says in the Dec. 12 issue of Newsweek (on newsstands Dec. 5). "My act isn't about saying the FCC sucks. It never has been. It's about going out and talking to people in a real way." Stern also tells senior writer Marc Peyser and correspondent Nicki Gostin that he disagrees with the oft-applied label, "shock jock." "If I just went on the air and did shocking things, the show would be over in a month," he says. "It's not about someone getting naked in a studio for me. It's about what drives a person to get naked in a studio, who the hell they are and what makes them tick. It's about honesty."
While walking the halls of Sirius's New York offices, Stern sees rapper 50 Cent, who gives Stern a hug and asks when he can be on the new program. "I'll bring my own strippers," offers 50. "I'll bring my own whores," says Stern, "and we can really make a show." But Stern has some concerns about the move as well. Sirius has more than 2.2 million subscribers; Stern's current audience is 12 million. While on the air in recent weeks, Stern has fretted repeatedly about his audience's not following him to Sirius, of not being loved enough for them to pay for him. "To me — and this is a big sickness — my audience will never be big enough," he says.
So what does a king do on a shrunken throne? For one thing, he's bringing back many of his greatest hits from early in his career, before he racked up millions of dollars in FCC fines. Bits like "It's Just Wrong," where fathers and daughters undress each other, and "The Bathroom Olympics," where Howard and his minions race to see who can pee first. He's also thinking seriously about putting cameras in the bathroom that's being built especially for the Wack Pack — Wendy the Retard, High-Pitched Eric, Jeff the Drunk, Cleft Palate and the others who make up Howard's very own Island of Misfit Toys. If all this seems like a deep shade of blue even by Howard's standards, perhaps that's because he's making up for lost time, write Peyser and Gostin. "The show I'm doing now sucks compared to what I was doing 10 years ago," he says, though he is still No. 1 in New York, Los Angeles and beyond. "I don't have porn stars on anymore. I haven't had lesbians on for six months. There's no point. You can't ask about their lives."
Before the Sirius deal came through a year ago, he was ready to quit radio after 29 years behind the microphone. "He would come in every day and have to work really hard to think about a word that could get on the air, and even then we were having the button pushed on us," says Stern's longtime sidekick Robin Quivers.