I mean this girl use to be FINEEEEEEEEEEE. She's in jail and STILL being sued!!
from the NY Post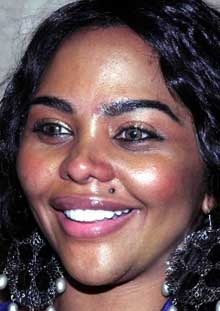 Jailed rap diva Lil' Kim is facing new legal woes — again over a shooting by her Junior M.A.F.I.A. posse.
A Brooklyn Supreme Court judge has issued a default judgment against the raunchy rapper after she ignored a civil suit arising from an August 2001 shooting that involved four members of the crew.
Ron Mysliwiec, lawyer for plaintiff Michael Goody, 25, said he is seeking $1 million.
Kim's lawyer Mel Sachs said he'll seek to have the judgment vacated. "It can be shown that she was not involved and was not aware of the incident," he said.
In fact, Kim — whose real name is Kimberly Jones — was miles away when James "Lil' Cease" Lloyd, Antoine "Banger" Spain, Damien Butler and Suif Jackson walked into a Fort Greene deli where Goody was talking loudly on a cellphone.
Words were exchanged when the four told Goody to pipe down. When he stepped outside, he was shot in the thigh.
Butler and Jackson got jail time. Lloyd got probation, and Spain appears to have been dropped from the case.
Kim — serving 366 days in a Philadelphia lockup for perjury— was not there. But her new Lincoln Navigator was: The posse members were using it.
"Jones had an obligation and duty to employ competent and emotionally stable personnel of high character as her bodyguards so as not to endanger the welfare of others," the complaint says.
Mysliwiec moved for a default judgment after neither Kim nor her lawyers showed up for depositions. Sachs said she couldn't appear because she's in jail.
Kim was convicted of perjury after Lloyd and Spain testified against her in a February 2001 shooting in Greenwich Village.