Taylor Rain's Assylum !!!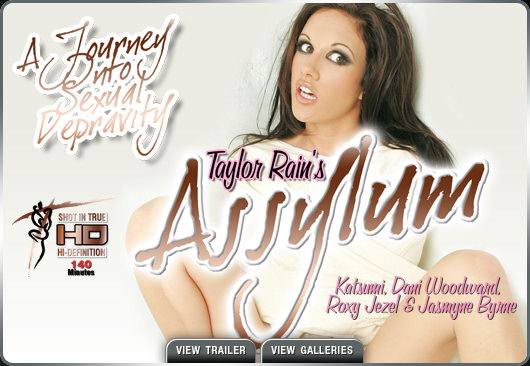 Assylum, produced by Torrid Entertainment, sets Strap yourself in and get ready to see Taylor Rain as you have never seen her before. See Taylor Rain in her most "true to life" role ever. Watch Taylor explore her sexual past and lead you all the way to the present.
Since shooting of this title wrapped, Taylor hasn't shot one scene. "This movie took too much out of me, brought back a lot of memories. A lot of hurt, a lot of anger, a lot of tension, but on the flip side it was all real because I really love cock", proclaims Torrid Contract Girl Taylor Rain." This is a movie for me just as much as it is for my fans. My fans always email me and ask me about my life, my past, what I have done and what I want to do. Well, now all my fans can see where I've been and where I'm going. Fans that watch this movie will get an inside look at my life outside of porn, as if they were living my life with me."
Anthony Hardwood, Brett Rockman, Brian Surewood, Sasha, Trent Soluri and Lee Stone provide the wood as a stellar cast of sexy sluts help Taylor provide you with the most spank worthy scenes possible. Dani Woodward, Jasmyne Byrne, Katsumi, and Roxy Jezel. Join Taylor as she delves deep into her darkest memories and her earliest sexual experiences, taking you into a shocking past of disturbing images from the recesses of super porn star Taylor Rain's past. Throat Gagging, DP's, Blistering Anal encounters all set in the most menacing locations lead you and Taylor into a world of sexual depravity that won't relent until you eventually crack, and join Taylor in the Assylum.
Click here for the hardcore photo gallery and trailer.
Assylum is available NOW. To order, contact Anthony Simone at 818-577-4575, ext. 400, or via email at anthony@defiancefilms.com.
For more information about Defiance Films, contact Keith O'Connor at 818-577-4575, ext. 402, or via email at keith@defiancefilms.com .
Be sure to visit our website at www.torrident.com and www.defiancefilms.com for the latest information on upcoming releases and to check out the high definition trailers, along with an added bonus feature of clicking on any performer's name to download their photo. 2257 compliance information for every title released by Torrid Entertainment & Defiance Films is also readily available for immediate download.
Defiance Films and Torrid Entertainment deliver the most 'Socially Unacceptable Behavior' in every hardcore, explosive scene produced.