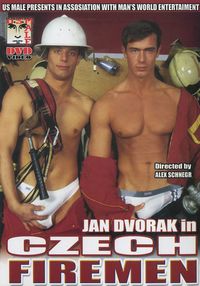 IS THE CZECH REPUBLIC AMERICA'S "BIZARRO WORLD" – THAT IS, THE COMPLETE OPPOSITE – IN THAT MANY CZECH GAY PORN PERFORMERS ARE REALLY STRAIGHT WHILE MANY OF AMERICA'S STRAIGHT PORN PERFORMERS ARE REALLY GAY?
FRIGHTENING, AIN'T IT
(AND FOR THE RECORD: A MAN THAT HAS SEX WITH ANOTHER MAN, FOR PAY OR FUN, ALTHOUGH MAYBE NOT TRULY GAY HE FOR SURE AIN'T STRAIGHT)
http://www.radio.cz/print/en/72130 Trim, tanned, and well-proportioned where it counts: those are some of the pre-requisites for making it in the gay porn business in the Czech Republic, which enjoyed a massive boom in recent years. The 'biz' has come under the spotlight recently in the country's edition of the Big Brother reality show, in which Filip Trojovsky – known professionally as Tommy Hansen – admitted to acting in gay porn films though he insisted he was heterosexual. Strike you as unusual? Apparently in the Czech Republic it is often the case that actors in gay porn are 'staight'.
Jaroslav Tysl is a photographer for Amigo and MAXXX magazines:
"I'd say the number of heterosexuals [in Czech gay porn films] is close to 80 percent. Of course money plays a role, a lot of people have dreams they'd like to fulfil but lack the funds. Others perhaps want to experiment. But, of course, money is the most important factor.Gay men will usually recognise whether or not the actor is gay. But in a certain sense all porn is fake: it is always a sort of 'fantasy'."
Actors can earn anything between 5,000 crowns for just a few minutes to up to 60, 000 crowns (the equivalent of about 2,500 US dollars) for some scenes. Many of those who get involved in the business do so because of where they're from: smaller towns or poorer regions; they want a quick and easier route to supposed riches. But, says Jaroslav Tysl, sometimes the experience – especially for those the first time in this business, comes at a high price.
"For all actors in porn – gay or straight – it isn't easy. It's about the lights and the cameras and people and it can be very stressful. If you're gay at least you know what to expect, but for some of the first timers, heterosexuals, it can be pretty rough on the nerves. The setting is a bit different than they expect."It has been remarked that Czechs – forming a highly secular society – are very liberal and easy-going about sexuality and its easy to see that fewer in the public now than ever are ruffled by revelations in the tabloid media that this or that pop star or reality show contestant – have appeared in porn scenes. In terms of heterosexual porn, Czech celebrities, including model Diana Kobzanova, actually boosted waning careers through hardcore centerfolds. The same has not been true in gay pornography – but perhaps that too will change.