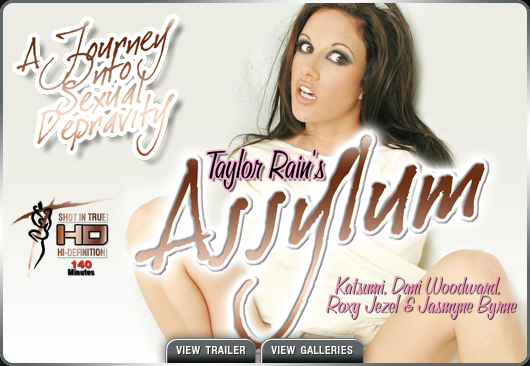 The trailer for TAYLOR RAIN'S upcoming feature title ASSYLUM for Torrid Entertainment has been released simultaneously by Torrid Entertainment and DefianceFilms.com.
This movie is already deemed controversial because of the subject matter, but to Taylor Rain this was a movie about her life, what's she's seen and experienced. "I didn't want this to be some pretty movie, this movie was about me and my experiences, so it had to be totally hard and even bordering on violent and psycho." States an emotionally drained Taylor Rain after seeing the trailer for the first time. "It represents me and how I've evolved since I came into the biz, what I've seen, been through and how I've felt at times". Working with Taylor Rain were Roxy Jezel, Jasmyne Byrne, Dani Woodward and Katsumi, an A list cast for this Torrid Feature.
Director Vincent Voss stated, "This was a difficult shoot, there were a few times we had to break because people were simply uncomfortable and even scared. Midway through the first scene we had to close the set for the remainder of the 3 day shoot, it was that intense" Voss goes on to say, "but it was a movie, and the best part was the fact that people on set, people in my crew, reacted so emotionally to some of the scenes and the depictions, it's really a testament to Taylor Rain's acting ability. She really pulled this off, she showed that she's matured as an actress and not only maintains that incredibgle sexual energy, but she's an A list porn "actress" now. Her expressions, he tears, her anger… they were all real for each scene, she put herself into the mood that each scene called for and she knocked every scene out of the park and her co-ho's rode her emotion and gave the performances of their lives as well."
To view the controversial ASSYLUM trailer, visit DefianceFilms.com or TorridEnt.com.