Torrid Entertainment'S 'Ski Bitch' Will Melt Even The Most Frigid Poles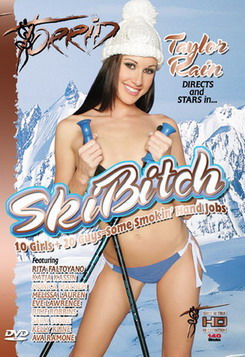 Ski Bitch, the much anticipated release by Torrid Entertainment, is a nasty double hand-job title with a slippery wet twist, and it features a stellar cast of beauties who love to whack off stiff poles while simulating the action of sliding down a mountainside.
Click here to view the High Def trailer and photo gallery.
Click here for movie info, cast list with photos, and box art.
Ski Bitch is the first movie directed by contract star Taylor Rain and certainly won't be her last. Her love for the adult industry screams out in every hardcore scene. Watch hot nasty sluts who love to slide huge cocks up and down till they explode. There's so much cum, Taylor gets into the action of every scene and supplies these cock loving babes with ski goggles so they can see every drop as it sprays all over their faces. And these ski bunnies are greedy for a blizzard of white hot jiz! Each girl grabs onto two dicks like ski poles because one cock ain't enough to satisfy their cum cravings.
Don't miss out on Torrid's blazing hot new release that is a definite a classic! 'Ski Bitch' ships this week and the street date is October 18. This high-end, hi-def gonzo DVD combines the best hand-jobs with the nastiest hardcore action and includes behind the scenes footage, a photo gallery, trailers and web access, all packaged in the most eye-catching foiled box art.
To order, contact Anthony Simone at 818-577-4575, ext. 400, or via email at anthony@defiancefilms.com.
For more information about Torrid Entertainment, contact Keith O'Connor at 818-577-4575, ext. 402, or via email at keith@defiancefilms.com .
Be sure to visit our websites at www.torrident.com and www.defiancefilms.com for the latest information on upcoming releases and to check out the high definition trailers, along with an added bonus feature of clicking on any performer's name to download their photo. 2257 compliance information for every title released by Torrid Entertainment is also readily available for immediate download.
Torrid Entertainment Turns Up the Heat with the hottest talent in blazing performances that will leave you all fired up for more!