Tori Welles has always been a favorite of mine. I'm not going to lie to you and tell you some bullshit excuse or reason about her acting or this or that. I liked her because she was hot as fuck.   So where did this former Vivid girl go after retiring?  Turns out not far at all.
She married Paul Norman, a producer and they had two kids.  When that didn't work out she returned to Vivid to work for them under a little known company they have called Peach DVD.  She started working for them in 2004 as their regional sales manager under the name Brittania Paris.   I looked up some of the Peach DVDs and it was really very soft stuff, probably less than you could even get on Showtime who at least simulates sex.  Here is how most of their movies were described —-  "Fantasies really do come true on this tropical island, which boasts gorgeous beaches, and scantily clad women to match."
So basically instead of making movies, Tori Welles now works behind the scenes in helping the titles get distributed to stores across the country.
Today it was announced that she would no longer be working for Peach DVD but instead has made the move to Metro.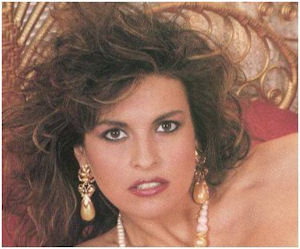 Metro Entertainment, one of the largest distribution companies of adult content, is pleased to announce their partnership with well-known industry insider and adult star, Tori Welles. Tori joins the company's sales division as a Sales Associate and will be working with all of Metro Entertainment's upcoming film releases.

Born and raised in Southern California, Welles was the 1990 AVN Best New Starlet, and is a member of the AVN Hall of Fame, XRCO Hall of Fame, and Legends of Erotica. Not only a performer, Welles was also a director in the adult film industry, and has worked at some of the biggest companies, including Vivid Entertainment. In 2004, Welles took a position as regional sales manager for Peach DVD, which was Vivid Entertainment's soft-core division.

"I am excited to be working for Metro, and working with some of the finest people I have met," says Welles. "The opportunity to be close to an industry that I am very passionate about is exciting to me. Metro has a great team, and I am here to only make it better."

"Tori's production experience on the set and off gives her a unique perspective, which will make her a valuable addition to our sales team," says Rick Porras, Vice President of Operations for Metro.

To reach Tori for sales, please contact her at one of the following:

Tori Welles
Sales Associate
Metro Media Entertainment, LLC.
9300 Corbin Avenue
Northridge, CA 91324
Phone: 888-963-8769 x. 206
Fax: 818-885-2822
AIM: twelles123
Skype: toriwelles
tori@metroemail.com

About Metro Media Entertainment:  Metro Media Entertainment, LLC (formerly Metro Interactive) produces and distributes adult movies, offering content for all platforms worldwide, including DVD and video-on-demand. Visit www.metromovies.com for more information.