HIP HOP HELLRAISERS STREETLYFE BRINGS WEST COAST THUGGIN' TO PORN VALLEY IN UPCOMING MUSIC VIDEO FOR THEIR SONG "SEX WITH A PORN STAR" FEATURING ELEVEN WELL-KNOWN SMUT SLUTS…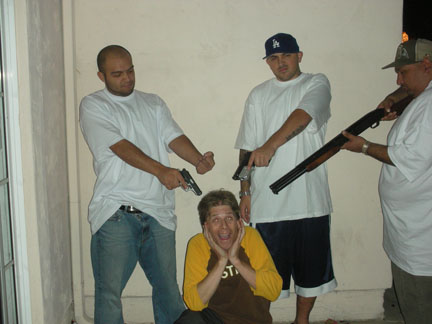 StreetLyfe is: Young Cash, Merzevelli Muthafucka and Big Reckless. Guns and whining Jew sold seperately
CLICK HERE TO LISTEN TO THE TRACK
Fayner Posts: These fools don't scare me; shit, five seconds after this picture was taken I had all three of them praying for my mercy. I come from the streets, bitch, remember that.
Seriously, though, I love these guys.
They got a rap thing going right now called STREETLYFE. People tell me they're really fucking great, but I can't tell 'cause I don't know anything about music that wasn't made in the 80s. I just accept it as a masterpiece 'cause STREETLYFE are trigger-happy thugs and would execute my ass for saying otherwise.
"Sex with a Porn Star" follows the track "Sweet Dreams" by Marilyn Manson (actually, it's from The Eurythmics) with the chorus changed to "Wet dreams are made of these…Everybody wants to fuck like a porn star!
Named in the song and appearing in the upcoming music video are eleven cum-drenching cuties, but unlike past rappers who crossed over into the adult world – Snoop, Mystikal, Too $hort etc – STREETLYFE didn't just arrange for the babes to show up and pretend they're all up on the group's dick; all eleven starlets are close friends of STREETLYFE. In other words, this ain't no fabricated bullshit to raise their credibility like the others I just mentioned. If STREETLYFE tried pulling that shit I would not in a million years be promoting either them or this video project 'cause on the streets where I come from namedropping people you ain't tight with gets you a one way ticket to the grave.
"Sex with a Porn Star" includes the following adult stars in both the song and the upcoming video(from left to right): Jenaveve Joli, Flower Tucci, Kirsten Price, Alexis Amore, Jesse Jane, Olivia O'Lovely, Taylor Muthafuckin' Rain, Courtney Cummz, Jenna Presley, Cassidey and Teagan Presley.
CLICK HERE TO LISTEN TO THE TRACK
But here's the really fun part. The filming of the video is taking place this coming Sunday November 12th in Los Angeles, and I've been instructed (well, persuaded through threats of violence) to invite one loyal reader to this event so they can meet all eleven load-licking ladies and be a part of what I assume will be an historic event.
To enter the contest, you must email me at faynerpornbiz@hotmail.com before midnight on Friday with an original two-line rhyme using the name of at least one of the chicks named above. STREETLYFE will personally choose the best one since I wouldn't know a good rap line if it came and gang raped me.
To check out the band and listen to their music go to their MySpace page at http://www.myspace.com/streetlyfers.
To learn more about each of the members visit their respected pages…