Fayner Posts: It sucks meeting your idols. Wait, let me rephrase that. It sucks meeting your idols 20 years past their heyday. When I met Dokken at the Marriot hotel in Auburndale, Massachusetts in like 1986, that was fucking cool. They were cool. I was a dork.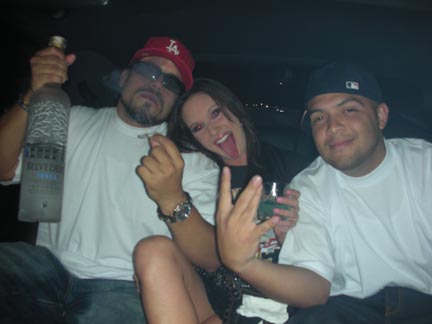 Jeremiah smokin, Taylor drinkin a WHAMMY and Mo in the limo headed to EVH's house
But times change. I'm no longer a dork. I'm cool. Stone-cold killa, actually.
Van Halen (until 1985) will forever remain my favorite musical act until the day I die. They defined my early teen years. They were fucking cool.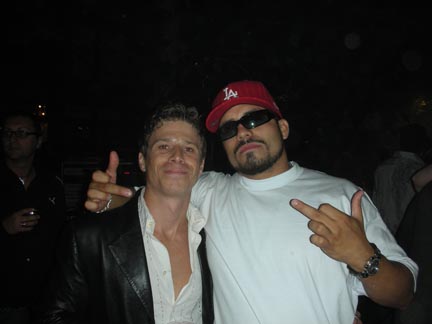 Fayner and Jerry
But when Sammy joined and things like "When It's Love" (minus the awesome guitar solo) and "Right Now" brought the band to the pinnacle of crapness, I fleed to the DLRoth camp like all the cool kids.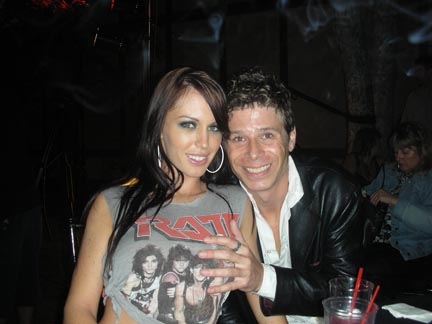 Jenna Presley (in Fayner's – well, actually it's the shirt I took from Norton when I was home in Massachusetts – Ratt shirt) and Fayner
But Eddie, of course, will always be the coolest guitar player ever. But, like when I met Dave Roth in the back room years ago at Crazy Girls and he asked me, well, begged me, to let him record an outgoing message on my phone I knew I never wanted to meet one of my idols again.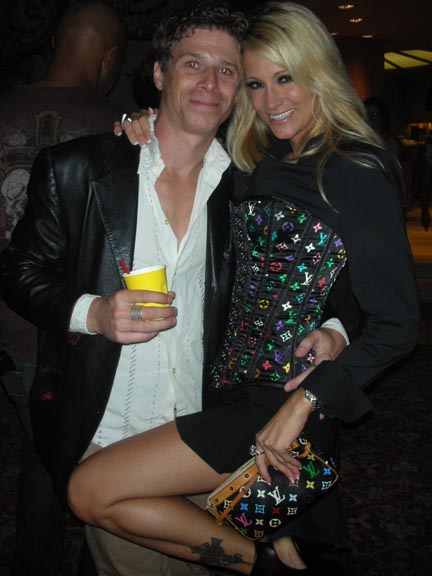 Fayner and jessica drake moments after Taylor finally made out with her. "She wasn't wearing any panties!" Taylor later told me
But when you don't even play the guitar and yet you can hum every guitar solo from Van Halen 1 thru 1984, you still find yourself a little awestruck when Eddie Van Halen is standing 6 inches away from you and staring you in the face.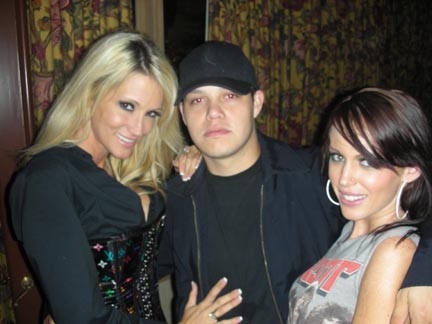 jessica, Winston "I have an awesome penis and yet I don't smile" Burbank and Jenna
I remember I was hanging with Gia Jordan and Taylor. I was on two ecstacy pills (well, three if you count the one I found on the ground), stackers and xanax plus alcohol. I told Gia to take a picture of me and Eddie. Gia walked up to Eddie who was playing pool and said something like "hey, this is Scott, he's an awesome (my word) writer and a huge fan. Can I take a picture?" and Eddie said something like "What's in it for me?" or "Show me your tits" or some crap like that. It was then that I decided meeting Eddie Van Halen would ruin my love for the band. So I walked off.
Fayner and Taylor pose at EVH's piano
Now before the party, weeks before, when the guestlist was tighter than a girl's pussy who just fucked me, I was told I could attend only if I wore normal pants and didn't bring drugs. That irked me. I doubted that everyone was told these rules. Fuck, EVH probably had a small mountain of cocaine upstairs in one of the rooms for all I know. Why was I being singled out?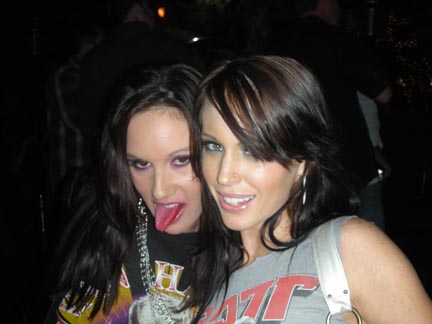 Taylor Rain (after 10 drinks) and Jenna Presely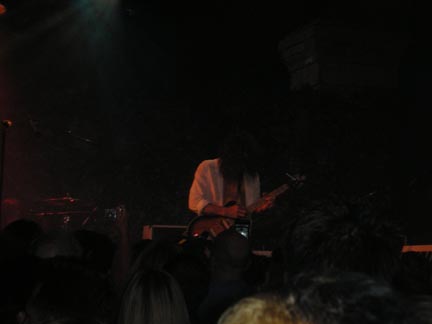 EVH from way in the back playing "Eruption"
"I'm gonna jerk off in his bathroom and leave my load in the toilet!" I declared to no one in particular. It seemed like a good idea. It never happened, unfortunately. But I did put my rum-soaked fingers on what I believe were the samurai swords used in the MTV-banned "Oh, Pretty Woman!" video that were on display. That'll show him!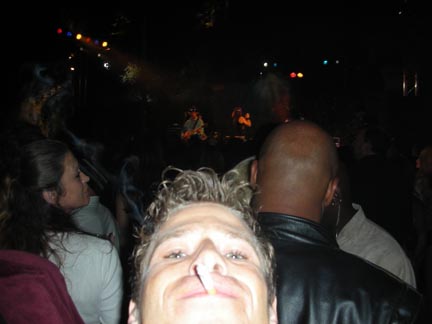 This was supposed to be a picture of Fayner with EVH in the background, but as you can see it became Fayner with the back of some guys head
Easily the best party of the year, EVH or no EVH. His jamming to me, although incredible, lacked any hunger and excitement of when I last saw him on stage in 1984. But, duh, right? He should have pulled out one of the old Kramer guitars at least. I heard he was sour because Billy Idol found out it was a porno party and cancelled.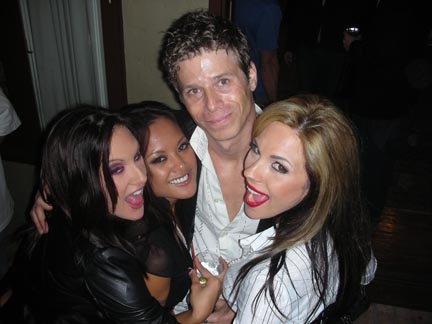 Taylor (after 15 drinks), Kaylani, Fayner and Kirsten Price
The funniest moment for me was when the party was winding down and I was way way out of my mind and talking to two women I can't remember right now and some guy comes up to us and says to me, "Hey, what do you do?" and I say, "I'm not sure. Why?" and he says, "I was just asking 'cause obviously you know what I do," and I looked to one of the chicks and she whispers that he played bass with the band and I turned back to him and said, "Listen, I just watched the greatest guitar player ever, do you really think in a million years that for one second I would turn my attention to the guy playing bass? Even if you were Michael Anthony (VH's (old?) bass player) I wouldn't have taken my eyes off of Eddie. Sorry to tell you but I don't think anyone here looked at you on stage. Bummer, huh?" and then I walked away.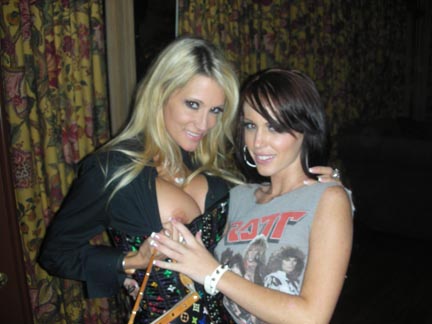 jessica and Jenna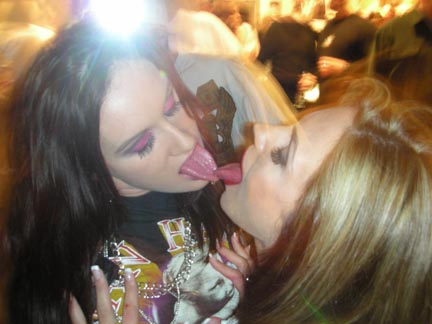 Oh, yeah, Taylor Rain (after 20 drinks) also sucked face with Kirsten Price
So I didn't meet Eddie Van Halen, I didn't drop a load in his toilet and I didn't even get any sexual favors from the many porno chicks at the party. But did I have a good time? Yes, I did. Would I do it again? Sure. Would I remember the bass player if I ever saw him again? Not in a million years.