WARNING
MANY OF THESE PICTURES INCLUDE jessica drake FONDLING TAYLOR RAIN. PARENTAL DISCRETION IS ADVISED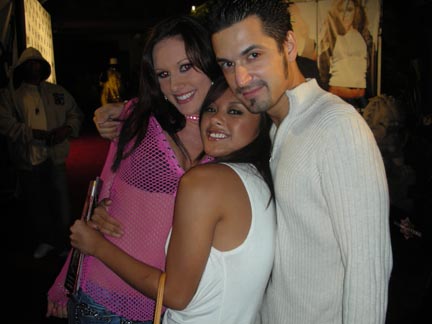 GUESS WHAT? TAYLOR AND I SHOWED UP LATE. SHOCKED, AREN'T YOU? AND WORSE THAN BEING A JEW AND SHOWING UP AFTER THE OPEN BAR CLOSES WAS THE FACT THAT ONE OF OUR FAVORITE PORNERS KAYLANI WAS WALKING OUT JUST AS WE WERE WALKING IN. BUT SHE TOUCHED MY LEG, AND WHERE I COME FROM THAT MEANS SHE WANTS TO HAVE SEX WITH ME. ALSO SHOWN HERE IS THE AWESOME BRAD THOMAS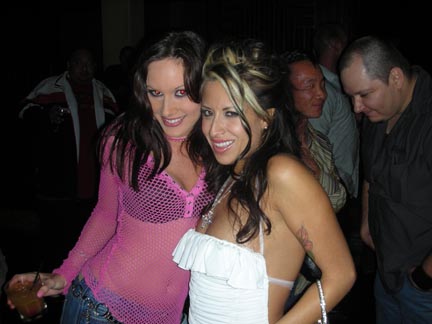 SERIOUSLY, CAN SOMEONE HELP ME OUT HERE? I GOT THE ADOBE CREATIVE SUITE 2 PROGRAM (LIKE $1,500 WHICH I GOT FOR $70) WHICH DOES PRETTY MUCH EVERYTHING YOU'VE EVER WANTED TO DO AND I DON'T FOR THE LIFE OF ME KNOW HOW TO GET THE RED OUT OF TAYLOR'S EYES IN EVERY DAMN PICTURE. HELP! OR COULD IT BE THAT SHE IS ACTUALLY THE DEVIL AND HER EYES ARE ALWAYS RED? I DON'T KNOW.
THIS WAS ONE OF THOSE PICTURES I DIDN'T HAVE TO TALK ANY CHICKS INTO POSING FOR. I JUST TURNED AROUND AND THERE WAS TAYLOR, AUGUST, BROOK HAVEN AND JENEVEVE JOLIE WAITING PATIENTLY FOR ME TO SNAP THIS PHOTO. IT'S A WRITER WHO HAS TO TAKE PARTY PICTURES' WET DREAM COME TRUE!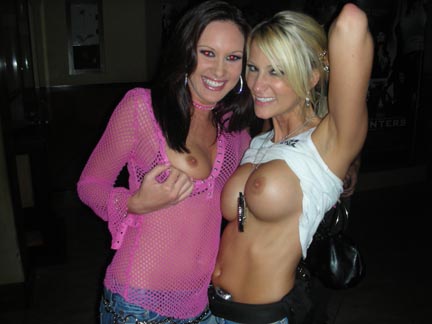 jessica drake AND TAYLOR RAIN SHOWING US THEIR GOODIE BAGS. jessica's ARE BIGGER AND TAYLOR'S ARE SMALLER BUT BOTH ALWAYS END UP IN SOMEONE'S BED AT NIGHT THAT ISN'T MINE. I KNOW SHE WAS A BIT TIPSY LAST NIGHT, BUT jessica STATED, THEN ANNOUNCED THAT I CAN QUOTE HER, THAT SHE VERY MUCH WANTS TO DRINK TAYLOR'S PISS. YEAH, SHE LOVES HER THAT MUCH
TAYLOR AND JENNA PRESLEY POSE WITH THE GUY FROM "IT'S ALWAYS SUNNY IN PHILADELPHIA." ACTUALLY, IT'S FORMER MALE PERFORMER AND CURRENT AGENT JOEL LAWRENCE OF GOLD STAR MODELING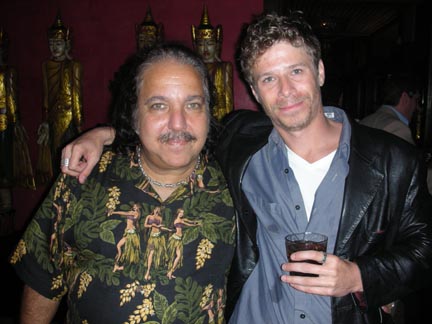 INDUSTRY NEWCOMER RON JEREMY POSES WITH VETERAN SCOTT FAYNER
jessica drake SUGGESTED I GET TAYLOR TO FORGET HER "NO GIRLS" POLICY AND HAVE SOME LESBIAN SEX WITH HER. AS jessica IS MY ALL-TIME FAVORITE PORNO BABE EVER, I PROMISED THAT I WOULD GET TAYLOR TO SPREAD HER LEGS FOR HER AS LONG AS I COULD FUCK jessica FROM BEHIND WHILE SHE DOES IT. jessica ACCEPTED MY PROPOSAL. "WHAT ABOUT BRAD?" I ASKED. "OH, HE WON'T MIND!"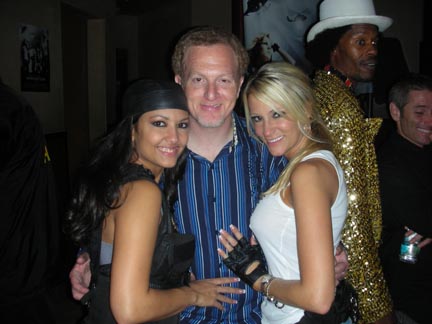 WICKED PICTURES CONTRACT STARS CARMEN AND jessica DRAPE THEMSELVES OVER COMPANY OWNER STEVE ORENSTEIN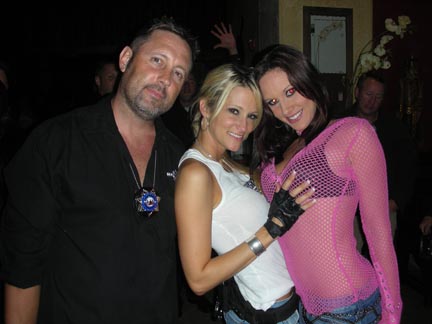 BRAD ARMSTRONG – THE MAN BEHIND MANHUNTERS – PONDERS FOR A SECOND THE THOUGHT OF HAVING BOTH OF THESE FINE BITCHES ALL TO HIMSELF. UNFORTUNATELY, KNOWING jessica's MASSIVE CRUSH ON TAYLOR, ONE THINKS HE'D BE SPENDING MOST OF THE TIME WATCHING jessica HAVE HER WAY WITH TAYLOR'S PUSSY
jessica KEPT INSISTING THAT SHE ONLY HAD THREE SHOTS TO DRINK DESPITE BEING HAPPILY DRUNK AND FLIRTY. I'VE COME TO THE CONCLUSION FROM THIS PICTURE THAT WHAT jessica MEANT WAS THAT THERE WERE THREE LIMES IN EACH OF HER MORE THAN THREE DRINKS THAT SHE CONSUMED DURING THE EVENING.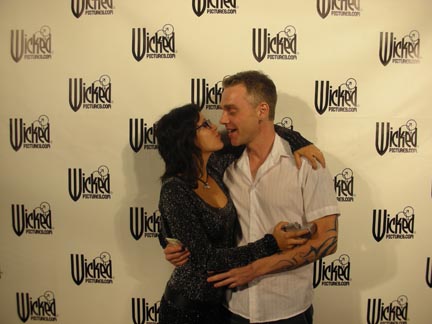 REMEMBER THE DAVID STANLEY OF YESTERYEAR? SAD AND DEPRESSED. HIS MOVIES REFLECTED HIS FEELINGS. BUT NOW LET US INTRODUCE THE NEW AND IMPROVED WICKED PICTURES DAVID STANLEY, A HAPPY MAN WHO SMILES AND WRITES PORNO FLICKS WHERE THE GUY ACTUALLY GETS THE GIRL! GOOD FOR YOU, DAVID!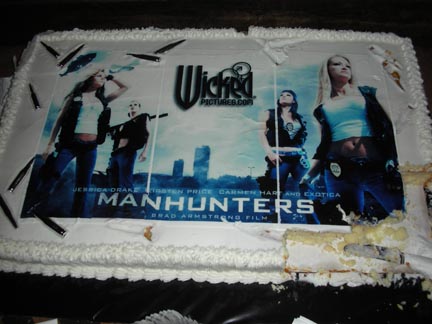 WITH ALL THE PROMISES FROM jessica ABOUT WHAT I COULD DO TO HER IF I COULD GET TAYLOR TO HIT THE SHEETS WITH HER (I'D BE PUSHED OFF THE BED FASTER THAN SMOKIE AND HER BLEEDING PUSSY IS) I KNEW I COULDN'T LEAVE WITHOUT GETTING AT LEAST A TASTE OF MY DEAR jessica TO SAVIOR UNTIL I GOT HOME AND PLEASURED MYSELF TO HER SCENES IN MANHUNTERS. SO I ATE A PIECE OF HER FOOT FROM THE WONDERFUL CAKE. DESPERATE? MAYBE. YUMMY? OH, YEAH!