Fayner Posts: On our way back from Nantucket, Taylor and I stopped in Boston for a few days. One of the places we had to go to was my boyhood town of Auburndale in Newton, Massachusetts. It's a lovely place. Unless you've been there. Then it sucks. Here are some pictures from our trip plus some others I just threw in for the fuck of it.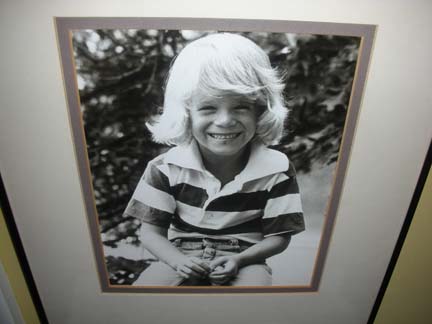 THIS IS A PICTURE OF ME WHEN I WAS A LITTLE BOY HANGING UP AT MY MOTHER'S APARTMENT IN BOSTON. BOY WAS I A CUTIE!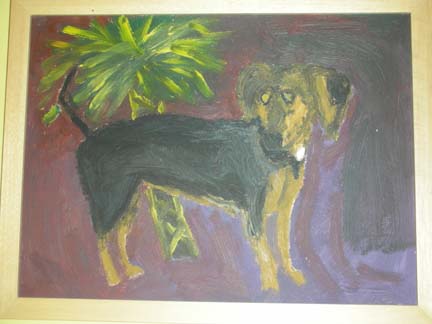 THIS IS A PAINTING I DID OF MY DOG RHIANNON AND STUPIDLY GAVE TO MY MOTHER. IT WAS RIGHT BEFORE I MOVED TO LOS ANGELES IN 2000. I KNOW I SUCK.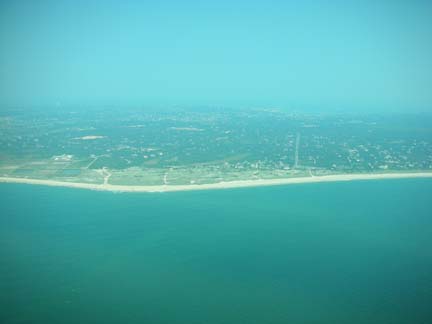 THIS IS NANTUCKET ISLAND. IT'S REALLY SMALL.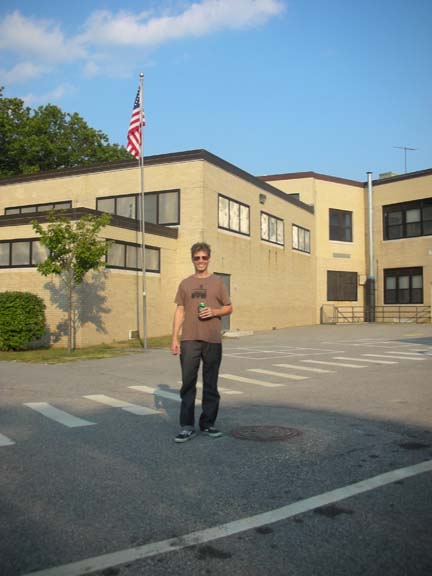 THIS IS THE ELEMENTARY SCHOOL I WENT TO WHICH WAS RIGHT NEXT TO MY HOUSE. IN 6TH GRADE I GOT TO TAKE OUR CLASS HAMPSTER "LUDWIG" HOME OVER CHRISTMAS BREAK AND HE DIED UNDER MY CARE. I TRIED SNEAKING HIM INTO CLASS AS "STILL ALIVE" BUT GOT BUSTED. AND ALL THE CHICKS LOVED ME. THEY USED TO SING "SCOTT FAYNER, SCOTT ALEXANDER FAYNER, THE CUTEST BOY IN THE SCHOOL!" NOW I DON'T GET ANY CHICKS. THAT MAKES ME SAD.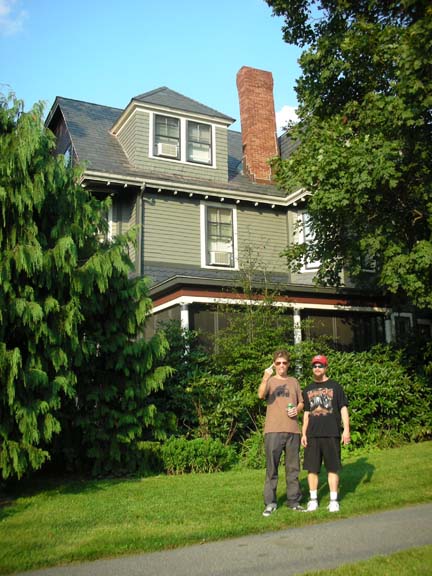 THIS IS ME AND NORTON AT THE HOUSE I GREW UP IN. THE THIRD FLOOR WAS MINE AND I USED TO BLAST IRON MAIDEN AND PLAY MY DRUMS FROM THAT ROOM EVERY DAMN DAY. NORTON, AND HIS LOVE FOR BEER, LATER ON INFLUENCED ONE OF MY MANY PEN NAMES FOR HUSTLER EROTIC VIDEO GUIDE ARTICLES, NORTON BEERS. I ALSO USED TO WRITE UNDER THE NAME CARWOOD LIPTON, WHO I LATER FOUND OUT WAS A GREAT WW2 WAR HERO. WHEN I FOUND THAT OUT I STOPPED USING IT. NORTON ALSO STILL HAS IN HIS BEDROOM A PAC MAN TRASH CAN THAT I BLEW A LOAD INTO LIKE 20 YEARS AGO WHILE HE WAS AT WORK.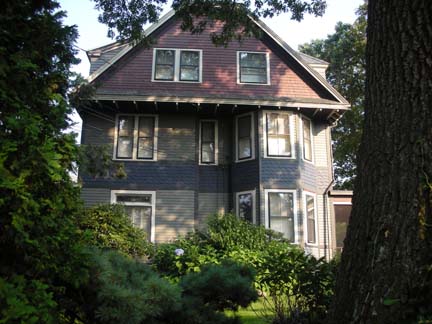 THE FRONT OF MY OLD HOUSE. IT WAS A GREAT FUCKING HOUSE. THE NEW PEOPLE MADE IT ALL GAY LOOKING BUT BEFORE IT REALLY KICKED ASS. THE FIRST TIME I BEAT OFF, THE FIRST TIME I TOOK ACID, THE FIRST TIME I SAW COCAINE WAS IN THIS HOUSE. IT SHOULD BE TORN DOWN FOR WHAT I HAVE BECOME.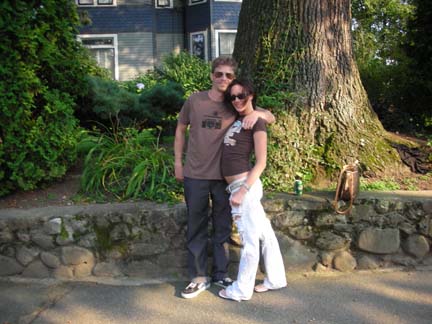 THIS IS THE SAME AS ABOVE, ONLY WITH TAYLOR AND I STANDING IN FRONT OF IT. TAYLOR WANTED TO TAKE A PISS IN THE FRONT YARD. I SHOULD HAVE LET HER.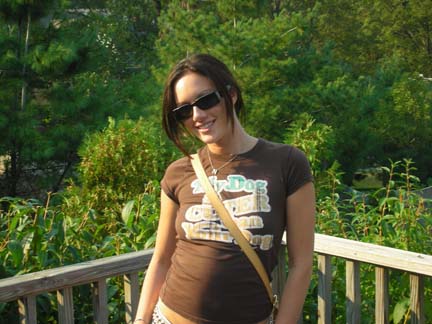 TAYLOR AT THE "CROW'S NEST" WHICH WAS A PLACE WE WOULD SMOKE WEED AS CHILDREN WHO SHOULDN'T BE SMOKING WEED. I TRIED TO GET TAYLOR TO GET NAKED FOR SOME PICTURES HERE BUT IT IS CURRENTLY PART OF A COLLEGE CAMPUS AND PEOPLE WERE WALKING AROUND.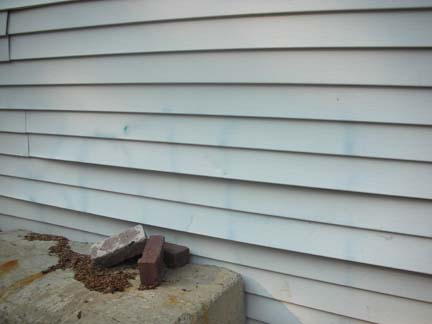 SEE THIS WALL? BACK IN LIKE 1984, I SPRAYPAINTED ON THIS WALL THE WORDS ON THE INSIDE JACKET OF THE VAN HALEN ALBUM FAIR WARNING THAT SAYS "AND SOMEONE SAID FAIR WARNING LORD STRIKE THAT POOR BOY DOWN! AND THEN I WROTE "ROTH!" AS IN DAVID LEE ROTH IN BIG BLACK LETTERS. IT'S STILL THERE OVER 20 YEARS LATER. YOU CAN FAINTLY SEE THE "ROTH!" ABOVE, BUT IF YOU'RE HAVING TROUBLE LOOK AT THE OUTLINE I DID OF IT BELOW. I WAS STUPID THEN AND I'M STUPID NOW. BUT IT WAS NICE TO KNOW THERE'S STILL A PART OF ME IN THAT CITY ALL THESE YEARS LATER.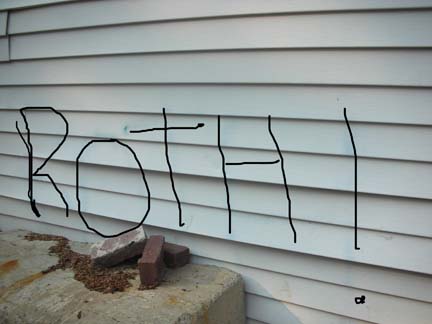 SO THAT IS OUR AFTERNOON TRIP TO AUBURNDALE, MASSACHUSETTS, THE CHILDHOOD HOME TO SCOTT FAYNER. HOPE YOU ENJOYED IT. I'VE ENJOYED SHOWING IT TO YOU.