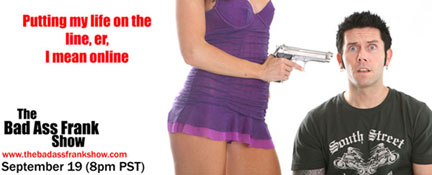 Fayner Posts: I'm not sure who Bad Ass Frank is. Or maybe I am and just don't want to admit it. Or I'm sleeping with him and pretending I don't know who he is as to keep our love-affair in the dark. Is it working?
Anyway, if what I've read is correct, Bad Ass Frank is gonna talk to six porno chicks in a one-hour stretch.
That's a lot of ignorance in one hour.
The record for talking to the most porno chicks in one hour is five, held by Zero Tolerance's Mike Quasar back in 2005. Some say his head exploded when the fifth porno chick answered, "Earth" to the question, "Where are you from?" and had to be rebuilt. And when the rebuilt head, made in Canada, broke down quickly due to inferiority, a new head was made for Mike right here in America.