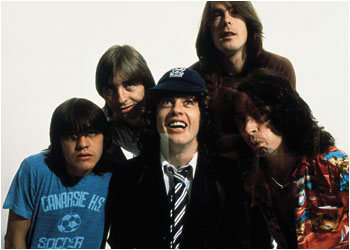 "Who's your friend and who's your foe
Who's your Judas you don't know"

ac/dc "Night of the long knives"
Fayner Says: Music should bring people together, and with one's knife and another's eye.
Fighting is okay when you have a better reason than someone's taste in music. I like AC/DC, love them actually, but if I got stabbed the eye because of it I would be sad.
A teenager who was stabbed in the eye during her school lunch break said a "gang mentality" singled out pupils for their music and fashion tastes.
The 15-year-old, who cannot be named for legal reasons, narrowly escaped losing her sight in the attack last November.
She had been the victim of a string of attacks, threats and had even received prank calls at home because she is what is known as "a metaler", Guildford Crown Court heard today.
But she said: "I mean, it's this gang mentality that my generation seems to insist upon and I want to stop it."
READ THE REST HERE