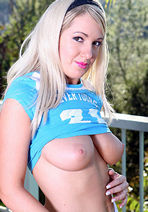 Fayner Posts: One would think I have a slew of smut sluts ready and willing to service me and my every whim. Well, it ain't so, I'm sorry to say.
And this makes me very sad sometimes. It makes my penis even sadder.
But now I'm on the prowl, and in my sights I see a hot little slut named Britney Rears. I want to take her out on a real date and get her drunk and have her like me enough for me not to have to drug her into having sex with me.
I've even made my way over to Brit's new and improved website located HERE and tried pleasuring myself, but Taylor kept coming into my room/her office and interupting my fun.
Bummer.
And that is why I want to take Britney Rears on a real date where I hold the door for her and not call her a slut until after dessert. It is my new mission.
Anyone think they can help a lonely porno reporter here? I promise I will thank you if you do this for me.