By Gene Ross at www.adultfyi.com
As the late Dean Martin often crooned, "How lucky can one guy be?"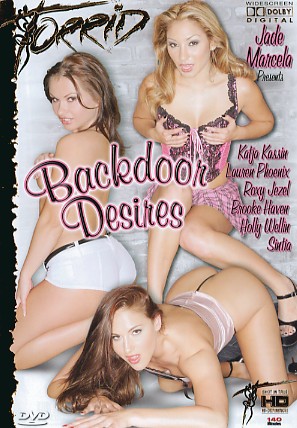 Brian Surewood finds that out in a scene he does with Holly Wellin and Brooke Haven in Backdoor Desires, a smart, high energy, nicely shot exercise directed by Vince Voss. Wellin and Haven have already flaunted their luxurious curves and tongue kissed the other's body parts for the camera outdoors, and Brian must have picked up the scent because the pace is full-bore from then on with some warm up vaginal penetrations.
Wellin lavishes Surewood's balls with tongue love, and Surewood's response to that is enough to plant a firm spike in Haven's ass as Holly guides Surewood's cock to its mark in the reverse cowgirl. Wellin acquits herself admirably in the rectal dept., as well, especially when a missionary ass landing segues into a beautiful side saddler. The girls register hang-on-for-dear-life facial expressions throughout for the anal amusement ride of their lives.
Surewood comes back later in the show to take part in a d.p. featuring the lovely Roxy Jezel and Sascha. Another thrilling anal adventure commences as Roxy's pert ass is passed around in a communal sharing of the reverse cowgirl experience then Surewood and Sascha get to work, cramming both her holes in what's a pure adrenalin pumping wild commute. Sascha is also back, anal mating with Katja Kassin whose spark plug sexuality never ceases to garner universal approval.
After doing some extensive dental work on her with his cock, Sascha gives Katja the ol' Indiana shit boiler, up and over style. There's at least four other positions and maybe more where Sascha's clinging to her hearty cheeks like a newborn money to its mother. Really good stuff.
Kurt Lockwood and Lauren Phoenix have worked before in another Defiance project titled Horny Holiday. In that one Lockwood plays an elf and Phoenix is Mrs. Santa Claus. With all the Christmas crap and Keebler cookies out of the way, Lockwood means business. After he has Phoenix over his knee for an ass probe, Lockwood hoists her over his shoulder for a standing upside down 69. That alone would be a day at the gym for the average Joe, but Lockwood's just begun. Probably the best scene in the movie qualifies itself with Phoenix in a spine re-arranging pile driver- front and reverse – with Lockwood deep in her ass. Another choice shot in when Kurt's got her on her knees and fucks her butt without clemency.
Pretty close to the energy of that pairing is the one you'll seen between Anthony Hardwood and Sintia Stone. Hardwood never fails to work up a daily sweat in these movies, and Stone's ability to take it in at least five positions is as good a definition of rectal resilience as you'll find.