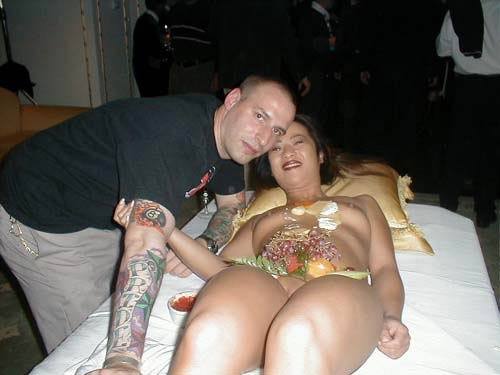 Fayner Posts: Tony Testa is one messed up sucka. Take our conversation yesterday, for example.
Fayner You haven't told me today how much you hate me and want me to overdose.
Testa Sorry, man. But let me ask you something: have you ever been in love?
Fayner Hell no!
Testa Well, I am! I was out at one of them restaurants where the food is served on a naked chick. Ever been to one of them?
Fayner No, but I have eaten a twinkie that some fat chick was sitting on for an hour. Does that count?
Testa Not really. But this chick who was working as my plate was so beautiful and amazing, I just fell in love right there.
Fayner So what now? Does the creepy stalking begin?
Testa This is 2006, man. We don't do it like that anymore. I'm going to Japan next week to ask her father if I can marry her.
Fayner Are yous serious?
Testa As serious as a heart attack
Fayner But you called me once during one of your heart attcks. How serious is that?
Testa Whatever. I'm in love. See, I just shit in my pants a little and it doesn't even matter 'cause I'm so in love with the chick that put food on her naked body and let me eat off it.
Fayner Can I go now?
Testa Please do. And if you have time will you die?