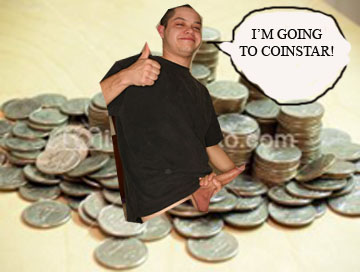 Fayner Posts: This is God-damned exciting. It's not every day I get to say that I know a lottery winner. I only know one other lottery winner, but his dog has a rash on it's ass and I don't know what to think of that.
Winston Burbank is the cheapest man on Earth. A 12-year-old orphan from Somalia spends more money than him. He admits that when he's called for a job he instantly envisions himself putting the money in his bank account. When he heard about Keith spending $100 on steaks the other night he started dry-heaving.
I hope this has shown you how cheap Winston is.
Now is Taylor's turn…
TMFR Posts:
Winston comes home and comes upstairs to our room and asks me for a bowl and gives me the excuse I've been on set all day with NO WEED!!!!I say, "Bullshit everyone smokes weed if they are on a porn set all day long!!!!"
Anyways, Keith was trying to find a USB cable for my camera and also finding a cord to my hp printer! He was going through a bunch of random boxes with wires and a bunch shit was all over the place. Then he pulls out this bose system box with a bunch of coins in it!!!
TR: BABY WHAT IS THAT????
KEITH: It's a bunch of coins!!!! Here's a freezer bag full of quarters too!!!
NATE: SWEET!!!
TR: SWEET! Let's go to Vegas and use them in the slot machines!!!!
KEITH: BABY YOU KNOW WE ONLY TAKE THE BENJAMINS TO VEGAS!!! Here Nate take this shit!!!
NATE: REALLY???
KEITH: YA, AND TAKE THIS BAG FULL OF QUARTERS TOO. THERE'S PROABLY 300.00 JUST IN THIS BAG!!!
TR: NATE ARE THINKING ABOUT TAKING THAT TO COINSTAR RIGHT NOW EVENTHOUGH YOU JUST GOT OFF OF WORK???
NATE: YA BUT I HAD A FEW BEERS!! CAN YOU DRIVE ME???
TR: I GET HALF!!!!J/K
NATE: FUCK THAT I WILL GO TOMORROW!!!
TR: YOU SERIOUSLY SHOULD OF BEEN A JEW!!! TELL ME HOW MUCH YOU GET WHEN YOU CASH IN YOUR LUCKY WINNINGS FUCKER!!!
Nate was one LUCKY FUCKER last night!!!!
Also, since Keith was giving shit away last night. I gave Kelly Erikson my old 60gig I pod and some new ear phones. Also, a brand new bose system that you plug into the I pod. We have four of them and two of them were just sittin in their boxes!!! FUCK IT!!!
TMFR AND SNOT FACE (Fayner)
OWNER, WRITER, AND EDITOR