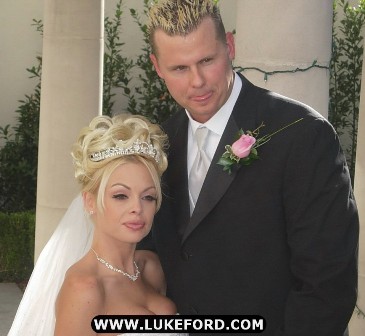 Fayner Posts: Rick got new wife and step-son a puppy Boxer from a breeder in Oklahoma where the couple now resides. The pup was too young to take home at the time, so the couple had to wait a bit to finally bring "Reggie" home.
Reggie was named after USC running back Reggie Bush.
Some might recall Reggie Bush choking at the Rose Bowl game in which Rick gambled and lost on his favorite USC. So unhappy over the loss, Rick even threatened to slap Fayner in Vegas 'cause Fayner was wearing a Texas Longhorns ski cap he got while visiting family there.
"Well, you know how Reggie Bush choked so bad in the game?" Rick told me over the weekend while getting lunch for Barrett's Mayhem shoot.
"Oh, yeah," I said, totally lying. I know nothing about football.
"I get this call from the breeder," he continues, "and she says that our new puppy Reggie choked on some dog food and died the other day."
"Fucking bush!" I yelled.
Although saddened by the experience, Rick and wife Jesse Jane are planning on picking a new puppy from an upcoming litter and may or may not be calling this one Reggie too.