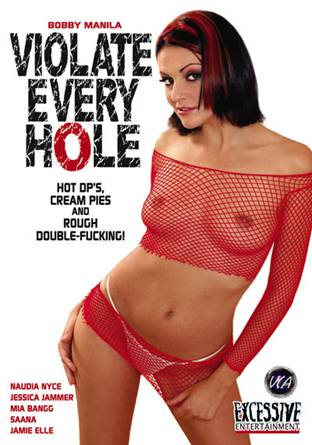 Repeat offender VCA's edgy Excessive Entertainment brings double penetrations, creampies and rough fucking action in its latest, Violate Every Hole.
Bobby Manila, a director usually of few words, had more than a mouthful to say in the subject of his latest title, Violate Every Hole and states, "The consumers of today's videos demand more from the scenes than they did five or ten years ago. They want more anal, they want more DPs and they want more energy in their sex scenes. Luckily, as the girls in Violate Every Hole demonstrate, the performers have kept up with the demand and expectations of the raincoaters."
Naudia Nyce, the brunette, all-natural 21st century wild woman who never says no to a good scene and eye candy for Violate Every Hole's box cover is more than just another pretty face. Nyce takes on two turgid dicks with a smile during her entire scene, never once looking like pair of penises is overwhelming.
"I love my job!" Nyce exclaims. "I know there's a lot of girls in porno who say that, but I really can't imagine anything else I'd rather be doing. Hardcore titles like Violate Every Hole are great because I get to get slammed hard by guys who know how to fuck hard."
Likewise, luscious Latina Jamie Elle has a body built for sin and an attitude to match. Lucky for the brunette, she's found her calling on the sets and locations that dot the San Fernando Valley.
"There's nothing like being with a man who can put down and keep it up," Elle giggles. "Boys outside the industry talk a good talk, but they can rarely keep up with me. I come to work and I meet men who know how to move it and I get to meet a new boy the next day. It's the perfect situation for any woman."
Mia Bangg, Saana and Jessica Jammer also star in Violate Every Hole. "These girls know what they like and don't mind the violation," Manila adds.
Violate Every Hole IS in stores TOMORROW December 27th, from VCA's Excessive Entertainment!