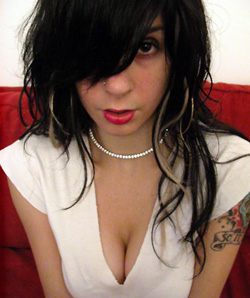 "New York sex is just better than L.A. sex," says director of photography Jane Waters between bites of a sandwich. It's lunch break on the Williamsburg set of Joanna's Angels 2, and Waters (a man with a feminine nom de porn), is eating before he has to get behind the camera again. An adult-industry veteran who's shot hundreds of pornos, he was flown in from Los Angeles specifically to shoot this sequel for VCA Pictures. About the differences between the two coasts, he says, "I love the women here. They're not so pornoed out. They've got quirky personalities."
One such quirky personality belongs to the director and star of the movie, 24-year-old Joanna Angel, co-founder and president of alt-porn website www.burningangel.com. In addition to running the site since 2002, she has been directing and producing videos and scenes. One such production is the cultish horror send-up Re-Penetrator, a 22-minute short in which Angel gets fucked while covered in blood and goo. This summer, she was hired by VCA to shoot her first feature film, and Joanna's Angels debuted in the Top 10 on Adult Video News's bestseller list when it was released in September. It revolves around one woman's plot to brainwash New Yorkers into falling in love with L.A. and moving there. Angel and her angels are hired to save the day, but as the box says, "It's hard to fight crime when you're horny."
Joanna's Angels is a funny, campy, silly punk porno that makes fun of the epicenter of adult film and of itself. Filled with amateur girls from the website and shot entirely in Brooklyn, it's got a homemade feel that's sweet and endearing. The female performers may be newcomers but they are far from sweet and innocent: The sex is rough, dirty, and nasty, and the chemistry between players is palpable. You'd never know that everyone but Angel and Katrina Kraven had never fucked on film before. The scenes put to rest any lingering idea that www.burningangel.com is just a "harder" version of www.suicidegirls.com; by the end, everyone is covered in spit and cum, hair trashed and makeup running.
It's been quite a year for Angel. Between a New York Times feature and the cover of Adult Video News, the media have taken notice. She received seven AVN Award nominations, including Best New Starlet and Best Actress, even though she had only appeared in two videos at the time nominations were announced. She seems unfazed by the attention or the pressure to deliver a great sequel. "The executives said they wanted better production values," she says, "So we hired Jane Waters, and VCA gave me $10,000 more than I had for the first one." When I ask if I can quote her on the money figure, she says, "Yeah, but also make sure to put that I'm a retard and I still put my director's fee back into the movie the second time."
Her financial sacrifice is less about mental deficiency and more about necessity, since shooting in New York can be very expensive, not to mention inconvenient. About 95 percent of all porn is shot in L.A. because that same percentage of talent and production crew live there. Although she acknowledges that there are many forces working against her, she wouldn't have it any other way. "In L.A., from the locations to the makeup artists, there is a scene, a machine. So a lot, but not all, of what comes out of the machine is predictable. In New York, we shoot in places where porn has never been shot. And the people are different. For the most part, they are new to porn and really excited to be a part of it. It's not, like, the 10th movie set they've worked on that week. We are all discovering our style as we go along."
In Joanna's Angels 2, Angel continues to satirize herself and that other coast, this time taking aim at alternative porn, a movement for which she is considered a poster girl. In the sequel, which she also wrote, the president's daughter has been kidnapped and won't be returned unless all things alt are made illegal. On the set, I meet one of the Angels, Sabrina Sparx, whose tiny frame begins with bright-red hair and ends with shiny white go-go boots. She pulls her white fishnet stockings right up to where the tops of her thighs and her ass cheeks meet. This move accentuates the gorgeously perky round butt that her white "skirt" (about five inches of fabric) doesn't even pretend to cover. I'm also introduced to a plaid-skirted and pigtailed Dana DeArmond, who plays the president's daughter. After running through some dialogue, Sparx and De-Armond head to the bathroom to freshen up. Two minutes later, they come out, and DeArmond asks me for some tips on giving herself a good enema. I am flattered.
The scene that Angel's directing involves Sparx and Tommy Pistol rescuing DeArmond, who has been tied up, blindfolded, and forced to listen to "lame pop music by a boyband" which contains subliminal messages meant to brainwash her. She's muttering things about going to the mall, getting a little dog she can carry around in her purse, and wanting a boob job so she can look like everyone else. Sparx and Pistol realize something is terribly wrong, and Sparx decides there is only one way to help DeArmond snap out of it: fuck her and make her come. Once the story is established and all the dialogue shots have been done, the sex finally begins. When the cameras roll, Pistol unzips his fly to reveal a rock-hard cock, and the three of them go at each other. Pistol, who was shy and polite moments earlier, transforms when his dick slips out of his pants and past DeArmond's lips. "Take it fuckin' deep," he grunts as he fills her mouth. I am struck that these three have only done a handful of videos. They're doing it like pros, and they look like they're having a great time. They've obviously learned a thing or two from Angel, whose enthusiasm for her work is infectious and undeniable. (And I'm not just saying that because she was penetrated in both holes simultaneously in the fifth scene she ever did. OK, maybe I am.)
After the pop shot, Angel applauds her talent, then gets busy preparing for the next scene, which will take place on a set that features a huge presidential seal on the wall with a big cock on it (the rooster variety). "The moral of the story," she says, "is that everyone is unique and what really matters is what's on the inside."