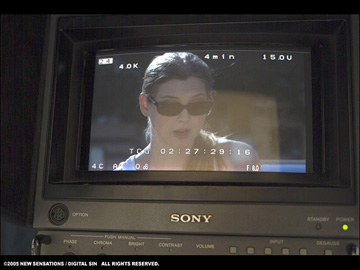 Sunny's next media blitz? Infomercials…
Fayner Posts: Check this out.
A friend was at the Woodland Hills AIM today. That's the place people go to get tested for diseases caused through sexual activity without condoms.
Speaking of condoms, my friend says "hey, you know the big jar of condoms they keep on the counter?"
I did.
"I do," I said.
Seems that nestled amongst the many jimmy hats within the jar was the business card of a certain porno actress – and we use that word lightly – Sunny Lane, who graced the blue screen in the recent Dark Angels 2 from Nic Andrews and New Sensations.
Although we're not sure whether this move was done 'cause she's a total whore or whether she's actually a smart chick who knows how to market herself, we don't much care. We're now bored of this story and will not continue.